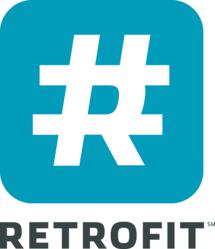 The partnership with Retrofit shows our commitment to strengthen and improve the health of our players once they leave the gridiron.
-Nolan Harrison, NFLPA Senior Director of Former Player Services
Skokie, IL (PRWEB) December 18, 2012
Retrofit Inc., the expert-led, data-driven weight loss program, today kicks off a winning partnership with the National Football League Players Association (NFLPA) to improve the health of its former players.
Retrofit wellness experts will work closely with former players to implement behavioral and nutritional changes to help them lose a minimum of 10% of their body weight and keep it off for life.
"The NFLPA is excited about the opportunity to partner with Retrofit," said Nolan Harrison, NFLPA Senior Director of Former Player Services. "Through this innovative weight loss program, our members will receive private lessons in fitness, nutrition, and mindset. The partnership with Retrofit shows our commitment to strengthen and improve the health of our players once they leave the gridiron."
"We are proud to add the NFLPA to our roster of clients," said Retrofit CEO Jeff Hyman. "Retrofit is better positioned than any other commercial weight loss program in the industry to provide such a high level of personalized service, accountability and support. Our expert team is trained to work with top-performing athletes, who are used to the regimen and coaching of the NFL. The partnership is the perfect fit to help NFLPA members reach their health and fitness goals."
More than 90% of Retrofit clients are losing weight, using wireless tracking devices, along with private lessons via Skype™ videoconferencing with their own registered dietitian, exercise physiologist, and behavior coach.
Retrofit Vice President of Business Development and former NFL player Reggie Smith was instrumental in introducing the program to his fellow former players.
"Our number one goal is to make our guys aware of the health issues out there and work proactively to help them make changes for the better. The best way to combat any problem is through education and hard work," said Smith, President, NFLPA Former Players, Chicago Chapter. "Most athletes need a little prodding, which is why the Retrofit program works so well."
Smith, who played in the NFL for the Denver Broncos and Tampa Bay Buccaneers, is also a Retrofit client. He first introduced Retrofit to NFLPA members at a NFLPA Former Players, Chicago Chapter meeting hosted by Chicago Bears All-Pro Kicker Robbie Gould last May.
The NFLPA is now officially rolling out the Retrofit program on a national level to its chapters across the country. Qualifying NFLPA members can enroll at http://www.RetrofitMe.com.
"When you're an athlete, you're full of hope and love for your teammates," said Smith. "That's what the NFLPA is all about. I want my former teammates to succeed at being healthy post-career and Retrofit is a huge help in crossing that new goal line."
About Retrofit
Retrofit, the expert-led, data-driven weight loss program for busy professionals, is designed to deliver lasting results. Its innovative year-long program includes wireless monitoring of a client's weight, activity, and sleep, as well as private lessons with a registered dietitian, exercise physiologist, and behavior coach. Retrofit can be found on the Web at http://www.RetrofitMe.com and by calling (855) 4-RETROFIT. Follow the company on Facebook and Twitter @retrofitme.
About NFLPA
The National Football League Players Association (NFLPA) is a non-profit, professional sports union that protects the best interests and welfare of all NFL players. It serves as the exclusive bargaining agent for all NFL players in collective bargaining. Established in 1956, the NFLPA has a long history of assuring proper recognition and representation of players' interests. The NFLPA is governed by a Board of Player Representatives, acting in accordance with the NFLPA Constitution and federal labor laws. The NFLPA's responsibilities include: Representing all players in matters concerning wages, hours and working conditions and protecting their rights as professional football players; ensuring that the terms of the Collective Bargaining Agreement are met; negotiating and monitoring retirement and insurance benefits; providing other member services and activities; providing assistance to charitable and community organizations; and enhancing and defending the image of players and their profession, on and off the field. For more information, visit http://www.NFLPlayers.com.