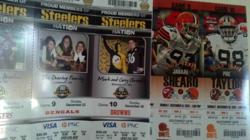 Pittsburgh PA (PRWEB) August 24, 2012
The NFL is one of the most popular forms of entertainment and it comes as no surprise that tickets for NFL games are always in high demand. Most games are sold out weeks, and sometimes months, before they are played. With the sport gaining more and more fans every year, and the need for online ticket resale is higher than ever.
A spokesperson from Headline Tickets Now announced on Thursday that discounted online tickets were available for NFL enthusiasts all over the US. Currently, discounted tickets are available for Pittsburg Steelers, Baltimore Ravens, Denver Broncos and many other teams.
The excitement that has been building for a few months now will surely be rewarded by fast paced, adrenaline driven games. The large crowd present at the games enhances the experience even further. Most of the games are sold out, and as a result tickets are being sold at a higher price. The move by Headline Tickets to sell discounted tickets online will greatly facilitate the fans.
Clashes between popular teams are usually sold out weeks before they are played on the ground. Passionate NFL fans, when unable to find tickets, search online for resale tickets. There have been cases of forged tickets being sold, or tickets being resold at absurdly high prices. With headlinetickets.com, the tickets available are authentic, and are at a discounted price. The website aims to become the largest source of online NFL tickets in the US.
Headline Tickets' official website includes a separate page for each team, with complete information about future games and availability of tickets. The website is user friendly, and provides a much needed platform for sports enthusiasts to buy tickets to their favorite matches at discounted prices.
The availability of NFL tickets can be checked by using smart filters. The users can search for a specific date, can look for tickets within a range of dates (for example, 25th August 2012 to 15th September 2012) and can even apply a city filter.
"We have broadened our horizons to cater to fans all over the US. We are no longer limited to Pittsburgh," the spokesperson announced proudly. With a large number of events and cities being included, the website is well worth the visit.
About Headline Tickets Now
Headline Tickets Now is an online platform for ticket resale. The tickets available are at discounted prices. The website caters to a wide variety of people by including sports, theater, concerts and Vegas shows in it impressive resume. The website also maintains an interesting blog where views and reviews about different shows and sporting events can be found. For people new to the world of theater, the blog is the ideal place to start.
Headline Tickets Now is an accredited business with the Better Business Bureau (BBB) of Western Pennsylvania.
Please use discount code "NFL2012" for 2 percent of the already lowest out the door prices on all NFL Tickets