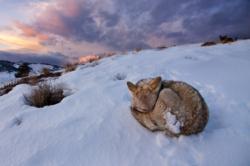 Washington, DC (PRWEB) April 17, 2012
National Geographic Student Expeditions is pleased to announce the winners of the 2012 Student Photo Contest. The grand-prize winner is Timothy Brooks, a high school junior from West Windsor, N.J. Brooks' winning photo "Coyote Curled at Sunset" captures a wild coyote curled on a snowy hilltop in Yellowstone National Park at dusk. Brooks has won a spot in the Summer 2012 National Geographic Student Expeditions London Photography Workshop, which includes round-trip airfare and program tuition and is valued at approximately $6,500. "I cannot wait for the trip to London this summer," says Brooks. "I am most looking forward to meeting National Geographic photographer Ira Block. I am greatly inspired by his work and I know that I will learn so much from him."
Lijah Hanley, a sophomore from Ridgefield, Wash., placed second and will receive a $250 gift certificate to the National Geographic Store. Third place went to Grant Lauer, also a sophomore, from Signal Hill, Calif. Lauer will receive a $100 gift certificate to the National Geographic Store.
"We are very impressed and inspired by the fabulous images and insightful ideas submitted by these talented students," says Deb Harris, director of Student Travel at National Geographic. "Choosing the winners from so many outstanding entries was a fun and challenging task for our judges."
The contest had excellent participation, with a total of more than 1,800 entries from 48 states. Judges narrowed the entries down to 28 finalists before the winners were selected. The three winning photographs, along with the 25 additional finalists can be viewed on the Student Photo Contest Winners page. These entries were judged based on three criteria: the quality of photography, the extent to which the photograph captured the essence of exploration and discovery, and the quality of the accompanying description and its relationship to the photograph.
The finalists' images span the spectrum from landscape to animals to people and illustrate the creativity and enthusiasm with which teenagers explore their world. Despite modern distractions and technology, a love of nature and adventure, as well as interests in other cultures and closely observing the world are common threads in the images and descriptions.
The National Geographic London Photography Workshop in which Brooks will participate is a unique, 12-day program where students have the opportunity to learn technical and creative photography techniques from a National Geographic photographer and professional photography instructors. The workshop is one of National Geographic Student Expeditions' high school summer programs, offering students summer adventures of a lifetime. Limited space is still available on many of this summer's programs.
About National Geographic Student Expeditions
National Geographic Student Expeditions, the high-school student travel program of the National Geographic Society, was founded on the same belief in the importance of exploration that has been the hallmark of the Society's 124-year history. National Geographic Student Expeditions offers student travel trips to 20 destinations across six of the seven continents. Each National Geographic Student Expeditions travel program is joined by top-tier experts, including anthropologists, biologists, explorers, naturalists, photographers, filmmakers, and historians and is led by a team of dynamic trip leaders. On each program, students select an On Assignment project that allows them to focus on a specific topic, such as Photography, Wildlife & Conservation, Filmmaking, Archaeology, and Community Service. This project-based program enables students to further engage with the places they visit. Three types of student travel programs are available, and each provides a unique learning experience. Students may participate in community service trips, field workshops, or expeditions. Destinations include domestic locations such as Alaska, Yellowstone National Park, and the Grand Canyon. International trip destinations include the Galapagos, Cambodia, Buenos Aires, London, Iceland, Australia, Peru, Tanzania, China, and more. National Geographic Student Expeditions strives to maintain immersive educational and cultural experiences through its specialty travel programs to unique locations worldwide.
National Geographic Student Expeditions is a part of National Geographic Expeditions, the travel program of the National Geographic Society. Offering trips to more than 60 destinations across seven continents, National Geographic Expeditions features land programs, family programs, small-ship expeditions in conjunction with Lindblad Expeditions, and photography workshops and expeditions. The trips are accompanied by National Geographic experts whose insider perspectives enrich each travel experience. All proceeds support the Society's aim of increasing global understanding through exploration, geography, education and research. For more information on National Geographic's travel programs, visit http://www.nationalgeographicexpeditions.com.