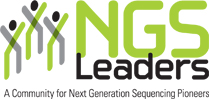 Needham, MA (PRWEB) June 27, 2012
NGS Leaders™ is hosting a free webinar entitled GenomeSpace: A New Solution for Integrating Genomic Analysis Tools. The 60-minute session is scheduled for Thursday, June 28, 2012 at 11:00 a.m. ET. Additional information and registration details are available at [http://www.ngsleaders.org/events.aspx.
The webinar will feature leading industry expert, Michael Reich, Director of Informatics Development for the Broad Institute's Cancer Program, and moderator Kevin Davies, founding editor of Bio-IT World and author of The $1,000 Genome. They will discuss GenomeSpace, a new software environment developed by researchers at the Broad Institute that brings various computational tools together in one place. Reich will provide an overview of GenomeSpace and demonstrate how biologists can benefit from its ability to manipulate and share an ever-growing range of genomic analysis tools.
About NGS Leaders
NGS Leaders (http://www.ngsleaders.org) is an online community for people working in next-generation sequencing, genomics, bioinformatics, and related fields. Members across industry and academia are provided with opportunities to participate in a collaborative information ecosystem to address emerging challenges and network with peers.
NGS Leaders is managed by Cambridge Healthtech Associates™ (CHA™), a firm that uses its collaborative model to improve the speed and economics of life science R&D, leveraging its consulting, technology evaluations and communities. Visit http://www.chacorporate.com.
# # #