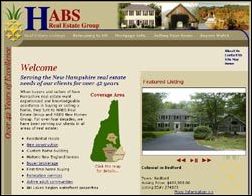 People searching for a new home turn to the Internet first, so we wanted our web site to be as helpful as possible
Bedford, NH (PRWEB) September 20, 2006
HABS Real Estate Group, a Bedford, NH-based real estate firm serving the greater Manchester area including Merrimack Valley, as well as the Lakes Region and the Seacoast, announced the launch of its new web site today. The site offers greater functionality for the convenience of home sellers and buyers, including the ability to search for properties in a variety of ways, including by price, by location and by style of home. It provides detailed information including multiple photos of the listings of HABS Real Estate Group and the HABS New Homes Group.
Robyn Pollock, Executive Vice President of HABS, said the new site was prompted by the growing sophistication of the average home buyer. "People searching for a new home turn to the Internet first, so we wanted our web site to be as helpful as possible," she said. "That's why we invested in a search capability that allows people to find exactly what they're looking for, quickly and easily. This is especially helpful when someone has to start their house search from a long distance; one of our brokers can work closely with a client over the Internet, showing them special features of New Hampshire (NH) home listings all through the Internet."
The site was designed by Total Design Solutions of Hudson, NH and benefits from search engine marketing provided by @Web Site Publicity of Peterborough, NH. Pollock explained why marketing the web site is a critical component of the redesign plan. "To retain our leadership in NH in home sales and new home development, we must continually prove that we can earn the confidence of home sellers. When they see that our listings are highly visible throughout the Internet due to our sophisticated search engine marketing program, they know that we can aggressively and successfully market their home for them. That's more important than ever in this economy."
To view the HABS NH home listings, building lots and new home communities in development, visit http://www.habsrealestate.com.
###