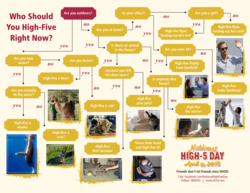 High fives are a fun way to connect, and now they're also a fun way to do some real and tangible good
(PRWEB) April 18, 2012
On the 11th annual National High Five Day, this Thursday, April 19, more than 200 participants nationwide will give out 55 high-fives each and fundraise for donations as part of the National High-5-A-Thon For Cancer Research. The participants have already raised more than $10,000 online at http://www.nh5d.stayclassy.org. All the funds raised will benefit the V Foundation For Cancer Research, the Sanford-Burnham Medical Research Institute, the Gateway for Cancer Research, and the Fred Hutchinson Cancer Research Center.
The National High-5-A-Thon is a new twist on an event that was first celebrated in 2002 at the University of Virginia, spread rapidly and in 2010 spawned a charity, the National High Five Project (NH5P), based in San Francisco. Organizers seek to build on their belief that like the exuberance of a high-five, generosity is viral.
"High fives are a fun way to connect, and now they're also a fun way to do some real and tangible good," said Greg Harrell-Edge, 30, co-founder of the holiday and Executive Director of NH5P.
Last year, the charity used the holiday to raise money for a National High Five Day Scholarship, which was awarded to Florida Institute of Technology freshman Brooke Adams, whose essay application beat out almost 2,000 other entries. Adams was presented with the scholarship, with an accompanying high-five, by Melbourne, Florida Mayor Harry Goode.
To promote this year's holiday and charity event, NH5P is running a campaign titled "Friends Don't Let Friends Miss National High Five Day," featuring a YouTube video compilation of botched high-fives and a "Who Should You High-Five Right Now" flowchart, which can be seen online at bit.ly/nh5pfun.
ABOUT NATIONAL HIGH FIVE DAY AND THE NATIONAL HIGH FIVE PROJECT: National High Five Day was invented by students at the University of Virginia in 2002. NH5P was incorporated in July of 2010 and is a 501(c)(3) non-profit organization.
INTERVIEWS are available with the founders of National High-Five Day and members of the Board of Directors of the National High-Five Project.
THE ELECTRONIC PRESS KIT is available at bit.ly/nh5pfun.