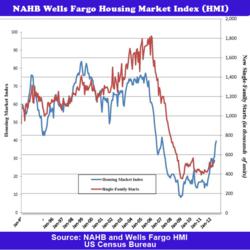 From the builder's perspective, current sales conditions, sales prospects for the next six months and traffic of prospective buyers are all better than they have been in more than five years. ~ said Barry Rutenberg, chairman of the NAHB.
Minneapolis, Minnesota (PRWEB) August 16, 2012
Stronger house prices in real estate communities across the U.S .contributed to slightly lower housing affordability in the second quarter, according to the National Association of Home Builders/Wells Fargo Housing Opportunity Index (HOI) and Housing Market Index (HMI) posted on August 15, 2012.
The construction pace of newly built single-family homes, which accounts for about 80 percent of all residential construction, is up with a two-point gain to 37. This gain builds on a six-point increase in July and brings the index to its highest level since February of 2007.
"Though new homes represent a small fraction of the overall housing market, they have an oversized impact on the economy. Each home built generates, on average, three jobs and $90,000 in taxes", according to the National Association of Home Builders. With that as a perspective, Destiny Homes believes there is good reason to be impressed by the housing market's four consecutive month climb in newly built, single-family homes. Butch Sprenger of Destiny Homes says, "The uptick in work has caused us to bring more help in on projects, too".
Barry Rutenberg, chairman of the National Association of Home Builders (NAHB) and a home builder from Gainesville, Florida, said, "While there is still much room for improvement, we have come a long way from the depths of the recession and the outlook appears to be brightening."
A regionally breakout of August's builder confidence is as follows:

Midwest: rose nine points to 42
South: two points to 35
Northeast: declined nine points to 25
West: declined three points to 40
NAHB Chief Economist David Crowe: "This fourth consecutive increase in builder confidence provides further evidence of the gradual strengthening that's occurring in many housing markets and providing a needed boost to local economies. However, we are still at a very fragile stage of this process and builders continue to express frustration regarding the inventory of distressed properties, inaccurate appraisal values, and the difficulty of accessing credit for both building and buying homes."
Simultaneously, the National Association of Realtors (NAR) released its own data on Wednesday, saying that the total combined inventory of single-family homes, townhomes, condos, and co-ops was down 19.3% in month of July from the same time frame last year. Confidence in these figures caused the NAR to declare that, "Low inventories, combined with rising list prices and lower times on market, are positive signs that the overall market is in a stabilization mode".
Butch and Liz Sprenger, owners of Destiny Homes, readily concur with the NAHB report saying, "We are simply swamped with work at the moment, including several large home renovation projects. Home construction seems to be having a positive impact on the economy, enabling families to move ahead with dream plans for their home".
Homeowners in the Minneapolis and St Paul area may contact Destiny Homes at 952-934-5706 to talk with an 35 year professional expert for home renovations and remodeling services.