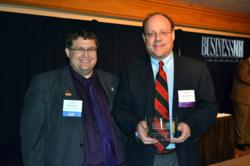 When our customers pay less for energy, their business can prosper. That's good for them, good for their own customers, and good for us.
Manchester, NH (PRWEB) November 09, 2012
New Hampshire energy manager Freedom Energy Logistics (FEL) was recently recognized by Business NH Magazine as one of the state's Top 10 companies To Watch. Members of the FEL management team accepted the award at a reception at Concord's Capital Center.
Vice President of Marketing Howard Plante and Sales Manager Sean Wirth were pleased to see the caliber of companies represented at the ceremony.
"Business NH's list of New Hampshire's top private companies included a number of Freedom Energy Logistics' clients. It was a strong sampling of both new and long-term customers, and was a good representation of the kinds of accounts we serve: among them, technology, manufacturing and sales," said Plante.
In addition to FEL, 2012 honorees included Merchants Automotive, New Hampshire Industries, Dartmouth Printing Company, New England Wood Pellet, The Union Leader Corporation, and New England Wire Technologies.
Plante continued, "Our goal is to bring the lowest possible energy prices to our clients. When they pay less for energy, their business can prosper. That's good for them, good for their own customers, and good for us. Freedom Energy Logistics was recognized in NH's Top 10 companies to watch because customers like New England Wire, Merchants and Dartmouth Printing--just to name a few of our customers who were honored-- are doing well. When we do our job well, they do well, and our business grows. We're proud of the relationships we've developed in our home state and throughout New England."
Specializing in high-end energy management, FEL helps New England's large, medium and small-scale users control their electricity and natural gas costs through its expertise in the competitive power marketplace. On average, customers save 5 to 20% over Standard Offer electricity and natural gas prices when they work with FEL and its sister companies Halifax American Energy Company and Resident Power.
Business NH Magazine reported that FEL expects to increase its work force by 40% and its revenue by 15% before year's end.
The Freedom Energy Logistics family of companies, designated a company in the "Top 10 to Watch" by Business NH Magazine, obtains power at the lowest possible price for New England consumers. FEL Power provides high-end energy management services in electricity and natural gas. Its unique Direct to Grid (or Self-Supply) model guides large-scale users into New England's wholesale electricity market, guaranteeing them access to electricity at the lowest available cost. Halifax American Energy Company is a retail electric energy marketer which, in partnership with South Jersey Energy, specializes in transactions converting wholesale and bulk power products into shapes and durations suitable for industrial, commercial, institutional and governmental end users. FEL's sister company, Resident Power is New Hampshire's first competitive electricity aggregator to focus exclusively on residences and small businesses.