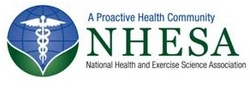 Indianapolis, IN (PRWEB) May 28, 2008
The National Health and Exercise Association (NHESA) is recognizing the American College of Sports Medicine (ACSM) for their outstanding contributions to the field of Health and Exercise Science. The ACSM, a leader in the industry of sports medicine and exercise science, is at the forefront of positive growth and change within the industry. The ACSM has more than 20,000 International, National and Regional Chapter members, forming one of the largest sports medicine and exercise science organizations in the world.
The NHESA network consists of a group of individuals who recognize the importance of health promotion and are dedicated to proactive participation. NHESA is the nation's only organization devoted solely to forming one of the largest professional health networks in the health and exercise sciences, working to promote qualified students, proactive associates, professionals, business resources, health care providers, educational institutions, and organizations/associations in the industry. NHESA members are promoted as leaders in the health and exercise science industry and recognized for their professionalism and dedication to proactive health promotion.
NHESA encourages all health and exercise science students and professionals attending ACSM's annual meeting to support NHESA in strengthening the integrity of the industry, and bringing the community together for a greater cause. Complementary student and professional memberships will be available at booth 638 during the conference.
About NHESA:
NHESA, through a Health Promotion Action Initiative, in correlation with Healthy People 2010, brings together the entire health and exercise science community so the industry as a whole can work as one to improve quality of life, increase life expectancy, and eliminate health disparities across all segments of the U.S. More information can be found at National Health and Exercise Science Association.
###