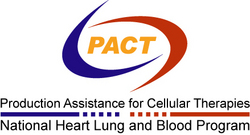 Converging Concepts in Cell Therapy
Rockville, MD (PRWEB) March 17, 2009
The Production Assistance for Cellular Therapies (PACT) Group has announced the scheduling of an NHLBI PACT workshop, "Converging Concepts in Cell Therapy", on April 23-24, 2009. There is no fee to attend this workshop, which will be held at the Natcher Conference Center at NIH in Bethesda, MD. This workshop is being organized by NIH/NHLBI and PACT in collaboration with: AABB, ISCT, ISBTc & FDA/CBER. Leaders in the field will present key aspects of the latest scientific, clinical, and technological developments relating to cell therapy. Three question and answer panel sessions are scheduled during the 1 ½ day event. The Workshop Agenda with a full list of topics and speakers is available at the registration web site. Register online at http://www.pactgroup.net.
This workshop is designed to stimulate discussions regarding the advances made in cellular therapy research and development, discuss the benefits and risks associated with the clinical use of these therapies, and provide a venue for information exchange. "We hope this workshop will be unique in the breadth of information that is covered and provide important information on the current state of therapy with specific cell types and related processing developments," notes Project Officer, Traci Heath Mondoro, PhD, Deputy Branch Chief, Transfusion Medicine and Cellular Therapeutics (TMCT) Branch, Division of Blood Diseases and Resources, NHLBI.
Seven scientific sessions will focus on immunological function and behavior of cells; therapeutic properties and clinical application of cell therapy; unique biotechnology-based approaches to product characterization and cell processing; cell trafficking and imaging techniques and treatments involving a select group of cell-based products. We have been very fortunate to assemble an esteemed group to address this wide array of information. Session discussions will include new treatments in the areas of diabetes, heart disease, cancer, HIV, adoptive T cell therapy, GVHD and bone marrow transplant, the range of cell types being considered in cell therapy and the related variety of cell processing considerations.
For further details regarding the April 23-24, 2009 workshop or more information about PACT, visit http://www.pactgroup.net.
About PACT:
The PACT Group is an NHLBI-funded initiative that is committed to the advancement of effective cell therapies. PACT supports the development of novel somatic cell therapy products by providing production assistance to the cell therapy community, as well as educational training via web seminars and at meetings. Production assistance is provided through the funded contract manufacturing of therapeutic cell products at PACT processing facilities. These facilities offer scale-up capability and expertise in the translational development needed to produce cell therapy products under cGMP and cGTP regulations. PACT manufactures quality cell therapy products on behalf of investigators with funded clinical trials requiring support in product development and approval. PACT's educational mission focuses on training in three general areas: translational development; scale-up and manufacture of cell therapy products; and quality assurance and regulatory issues.
This project has been funded in whole or in part with Federal funds from the NHLBI, NIH under Contract No. NO1-HB37166.
###