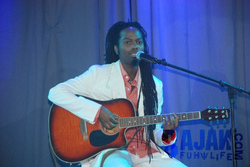 I like to think of style this way
New York, NY (PRWEB) March 5, 2009
"I like to think of style this way," says Nhojj. "Fashion is what you wear. Style is what you exude. For a performer, style is that part of yourself you share with your audience. What I share is my Caribbean roots. It's part of me. It's part of my music. It's one part sensual, one part spiritual, and one part joyful. I call it Caribbean Soul."
Nhojj tapped the talents of Maxwell stylist, Kirk Shannon-Butts, for his recent Barbados Music Awards performance. "I've always been a huge admirer of Maxwell." The singer says, "His style is smooth, elegant and authentic. It distinguishes him as an artist. I wanted to bring this sense of style and individuality to my BMA performance so I contacted Kirk. He orchestrated the style for the Maxwell 2008 Tour."
For his performance Nhojj wore a white suite from French designer Sonia Rykiel's Homme Collection, with a vintage orange shirt and Valentino shoes. The picture of Nhojj playing his guitar, shrouded in a blue spotlight, along with his soaring vocals, brought cheers from the audience, which included Lifetime Achievement Award recipients Square One and former American Ambassador Mary Ourisman.
The Barbados Advocate Newspaper reported that Nhojj "definitely made an impact on his audience with his voice, his lyrics and his personality."
Within hours, the popular CBC TV show Mornin' Barbados scheduled Nhojj as a guest. On the live taping, the singer/songwriter discussed his latest CD "Soul Comfort", the BMA's, and then serenaded host Cassandra Samuel with an acoustic unplugged version of "Love." "Wow!" she exclaimed at the end, and broke into spontaneously applause. "Remember the name," she said, "because he is going places."
For the morning show, Kirk chose vintage black tux jacket and pink t shirt by African designers Bebenoir. The whole affair was overseen by Carib News Editor Walter Greene, who heard Nhojj performing in New York City and invited him to sing at Guyana Fashion Weekend 2008, where he introduced Nhojj to BMA producer Ronnie Morris.
Nhojj has recorded 4 CDs and a live DVD filmed by Emmy-nominated director Bill Cote. His voice has been described as "A honeyed, subdued and unadorned combination of Stevie Wonder and Marvin Gaye," UK's LOGO Magazine, and "A voice that wraps the body and soul," Italy's Acid Jazz Magazine.
He topped the NY Indie Charts in 2007 with his unique brand of Caribbean Soul, spending a total of 37 weeks as #1 artist in the Fusion, Neo-Soul, Nu-Jazz, Healing, Easy listening and Gospel categories on MySpace, and received honorable mention at the 13th and 14th Annual Billboard Songwriting Contest.
Having started his musical journey at the age of 5 singing in his father's church in Guyana, Nhojj speaks with humility when referring to his recent successes. "The whole experience in Barbados was beautiful and I am thankful for each blessing. Experiences like these encourage and strengthen my faith and I hope it inspires others to live their truth." Visit http://www.nhojj.com for more.
###