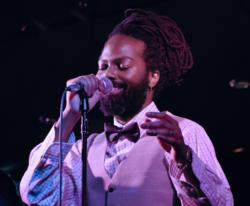 Music is a shared experience -  gender, class, race, sexual orientation, politics – none of these things matter.  Music transcends boundaries.
(PRWEB) November 13, 2012
Caribbean soul singer Nhojj is leader of the pack at this years 8th Annual OUTMusic Awards celebration picking up 6 nominations.  Sponsored by LGBT Academy of Recording Arts (LARA) and booked  as the biggest night in LGBT music and entertainment, the event takes place December 16 at Planet Hollywood in Las Vegas and culminates 3 days of gala festivities.
 
Known for his versatility and LGBTQ affirming lyrics, the award winning artist is nominated for Best Producer of the Year - "Live Your Life"; Best R&B/Soul Song - "Live Your Life"; Best Jazz/Cabaret Song - "You're a 10"; Best Song on a Soundtrack/Instrumental - "Finding Me Making Love"; Biello-Martin Love Song - "He & Him" and Best Spiritual/Inspirational Song - "Amazing Grace".
Close behind with 4 nominations are Rachael Sage, B. Slade, Sugarbush, and Matt Zarley.  Artists with 3 nominations include sean360x, Vicci Martinez, Mike Acerbo, KIN4Life, Brian Kent, and Solomon. Other nominated artists include Baron, Frenchie Davis, San Francisco Gay Mens Chorus, Swanny River, Las Krudas, Stephan Nance, Jason Walker, Marck Angel, Michael V. Doane, Ginger Doss, Kevin Wong, Michael V. Doane, Kiya Heartwood, Mark Barnes, Brett Every, and Athena Reich.
Nhojj made OUTMusic history in 2009 with his ballad "Love" becoming the first black male to win an OMA.  Last year he took home the trophy for OUTStanding R&B/Soul song of the year for his anthem "Gay Warrior Song."
"Winning is great," Nhojj admits, "but really all the nominees are winners for having the courage to stay true to who they are and create music that affirms all of us. I'm celebrating regardless of who takes home the trophies."
 
A VIP OMA Intimate Concert performance is set for December 15. Nhojj will share the stage with Universal Group recording artist Vicci Martinez, American Idol and The Voice contestant Frenchie Davis, million selling reggae/fusion recording artist Diana King, RightOut TV award winner Matt Zarley, and Las Vegas gay Latino performer Giovanna Aguaya. 
The award nominations highlight a great year for Nhojj. He released 2 singles, a music video, and a documentary short produced by Emmy nominated Michael Burlingame. The short "Nhojj MUSIC and the word" went on to receive the Indie Fest Award of Merit in the gay/lesbian/transsexual category, Nhojj reached #1 on OutVoice Song chart and last month, his acoustic YouTube rendition of  "He & Him" won the RightOut TV award for Best "Living Room" Performance. Press mentions included The Huffington Post, Gay City News, Next magazine and his performances included NYC Gay Pride, Chicago's ALT Q Music Festival, and the first "Out & Proud" Brooklyn Museum concert.
"The best thing about music," Nhojj explains  "is its power to bring people together… even the most unlikely of people, for instance two of my biggest fans voted differently than I did in the last presidential election. It surprised me at first, but after contemplation, I realized, music is a shared experience -  gender, class, race, sexual orientation, politics – none of these things matter.  Music transcends boundaries."
 
In January, 2013, Nhojj returns to New York City to record his 5th studio album and film a documentary about his work.
Follow Nhojj
http://nhojj.com
http://twitter.com/nhojj
http://youtube.com/nhojjmusic
http://facebook.com/nhojjmusic