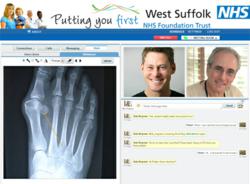 It is clear that current technology such as this can make the outpatient clinic much more efficient.
London, UK (PRWEB UK) 31 May 2013
In a move aimed at reducing the time it takes to process outpatient appointments and to free up patient's time, West Suffolk Orthopaedics is piloting a virtual clinic, whereby selected patients are given the option of receiving post-operative follow-up consultations online.
Not intended as a replacement of face-to-face contact, the new service is only offered to patients that hospital staff judge to be appropriate for remote consulting. The service is also not designed as a tool for diagnosing medical issues, instead being used to discuss test results, share files and images such as X-rays and conduct follow-ups. All patient consultations must be arranged in advance, but the ability to conference in additional expert opinion during a patient consultation on an ad-hoc basis is possible.
Built on the Saypage Telemedicine Platform, the service operates in a regular web site, making it easy for both clinicians and patients to use regardless of technical know-how. The only requirements are that users have access to an internet-connected computer and web cam. A mobile roll-out with apps for iOS and Android smartphones and tablets is expected during the summer.
Consultant Trauma & Orthopaedics surgeon, Niel Kang, an early adopter and advocate of the service says, "It is clear that current technology such as this can make the outpatient clinic much more efficient. Not only are we able to provide care in a more timely manner by being able to process more remote consultations than we can typically do in-person, but we are also offering patients more choice as to how they interact with us. We find that many post-operative patients are looking for simple re-assurance and to have to take a day off work, spend time travelling or arrange for child care to be told that everything is in order seems like an inefficient use of time from both their and our perspective. This philosophy can also be applied to GPs seeking opinions regarding patient management. We are all becoming familiar with Skype and FaceTime as tools to bring our family and friends together, so why not apply the same principle to healthcare provision? We aim to provide a convenient, secure, high quality service through digital technology."
The trust has set low initial targets for uptake and is keen to stress that remote consultations are entirely optional and might not be suitable for all. However, early indications suggest that patient demand is strong and discussions to make the service more widely available to other departments are already underway.
The Saypage Telemedicine Platform provides a solution compatible with both the public internet and the secure NHS, N3 network. Saypage communication portals can be branded and customised according to need. They can be accessed in any web browser without the need for patient or clinician to install additional software or plugins to their computer, eliminating potential customer service issues surrounding the installation and maintenance of installed products across a large array of devices. Provisioning of patients into the service can be carried out by clinicians or service administrators, and all appointments come with email reminders in the run-up to the scheduled start time. SMS reminders can also be configured to be sent to patients who add a mobile telephone number to their account.
Please visit http://telemedicine.saypage.com for more information.
About Saypage: Saypage is a Video Consultations Platform that enables organisations to rapidly deploy branded communications portals with integrated billing, reporting, recording, whiteboard and scheduling. With expertise in high-definition video conferencing, Saypage services can be accessed seamlessly on smartphones, tablets and in web browsers without the need for additional downloads or plugins. Saypage was created by Requestec in 2010 and is headquartered in London, England and with offices around the world the company provides global support and service.