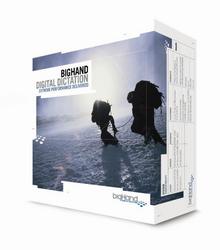 London, UK (PRWEB) March 10, 2009
BigHand has today announced that Guy's and St Thomas' NHS Foundation Trust is to extend its use of the BigHand digital dictation workflow system, further enhancing the Trust's ability to deliver first class patient care across a number of specialties. The success of replacing tape dictation equipment with the award winning BigHand system within Oncology and Renal has led the Trust to extend into Cardiothoracic, Sleep Unit, Diabetes & Endocrinology, Speech and Language Therapy, and Nutrition and Dietetics.
Over 400 dictations are created every day within Oncology alone, therefore by replacing tape equipment with the BigHand system, consultants are now able to submit dictations as soon as they are created to a pool of secretaries for transcription, regardless of which site they are at, or which floor they sit on. The instant submission of dictations coupled with improved workflow via BigHand eliminates the administrative delays caused by tape equipment, enabling Trusts to meet key national health targets.
Teresa Dardis, Service Manager, Cardiothoracic, commented:
''Replacing tapes with the BigHand system will enable consultants to dictate their notes there and then during clinic and submit directly to secretaries for immediate action, resulting in the swifter turnaround of work. We will no longer have to worry about delays created by clunky tape dictation processes and with the added advantage of a visible workload, the management of work will be more efficient and controlled. I am confident that BigHand will enhance the level of service we provide to our patients.''
BigHand digital dictation has enabled many Trusts to enhance the level of patient care they are able to provide to their local communities, and has been identified as a key tool in assisting Trusts trim costs and increase the efficiency of consultants, doctors and medical secretaries. BigHand has recently delivered one of the largest implementations of digital dictation technology within the NHS at the Sheffield Teaching Hospitals NHS Foundation Trust, resulting in same day patient discharge in some specialties.
Contact:
Chris Bell, BigHand. Email: chris.bell (at) bighand (dot) com Tel: +44 (0)20 7940 5907
About BigHand
BigHand is based out of Chicago, London, Sydney and Toronto. BigHand is the leading digital dictation vendor in the global professional services sector. BigHand3 was awarded 'Best of Breed System of the Year' at the Legal Technology Awards for 2008, and BigHand Mobile (BlackBerry Edition) was voted 'Mobile Product of the Year' at the CNET Business Technology Awards 2008. BigHand has also been nominated in the Sixth Annual Law Technology News (LTN) Awards for 2009 as 'Dictation System of the Year' and 'Mobile Tool of the Year'. Further information is available at http://www.bighand.com.
# # #