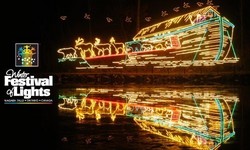 Niagara Falls, ON (PRWEB) October 24, 2008
Niagara Falls is preparing itself for this year's Winter Festival of Lights, one of Ontario's most exciting winter events. The Winter Festival of Lights includes over 125 animated lighting displays and 3 million sparkling tree and ground lights which can be seen within the Niagara Parks Winter Wonderland, including the world-famous Enchantment of Disney displays and the world's largest illuminated Canadian-American Flag. During the Winter Festival of Lights, the 5km (3+ mile) lighting route along the Niagara Parkway is known as the Niagara Parks Winter Wonderland.
On this upcoming 26th annual Winter Festival of Lights, the Embassy Suites Hotel has prepared a very special vacation package for those who wish to fully experience the awe of Canada's largest light festival. To act as a staging point for the festivities, the package includes a luxury two-room suite in a building positioned right alongside the falls. The mornings begin with a complimentary cooked-to-order breakfast for the entire visiting party, and continue with a scenic, narrated tour for two people through the beautiful light display. This tour winds along the Niagara Parkway and spectacularly illuminated Dufferin Island. In the evening, a Manager's Reception awaits visitors, and includes complimentary drink vouchers. To compliment the Winter Festival of Lights, visitors will be given tickets to the state of the art 3D/4D Theatre, to experience the immersive Legends of Niagara Falls. As always, the package includes Casino, Falls and Attraction shuttle passes for two, to be used throughout the stay.
Niagara Falls is one of the most incredible natural sights on Earth, visited by millions annually and depicted in countless works of art and literature. The beauty of Niagara Falls only increases during the winter, when the surrounding area is typically adorned with fresh snow and lit up with a cavalcade of glittering lights. To visit the Winter Festival of Lights is to see Niagara Falls in its full glory, and to experience this natural wonder in the best way possible.
###