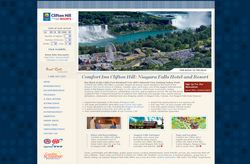 , hassle-free vacation in Niagara Falls, Canada.
Niagara Falls, ON (PRWEB) July 30, 2008
Demonstrating a commitment to exceeding customer expectations, Comfort Inn Clifton Hill today announced the launch of a new website: http://www.NiagaraFallsComfort.com.
One of the most prominent features of the website is its secure online reservation system. This system features a "first of its kind" package module, allowing guests to build and book their own packages online.
"Many guests prefer custom packages," said Nicholas Tritchew, the hotel's Interactive Marketing Manager. "And with Dynamic Packaging our customers choose exactly what they want, creating their own vacation."
Comfort Inn Clifton Hill's user-friendly system provides seamless integration, allowing guests to build their own packages by adding useful amenities and popular attractions to their room booking - saving time and money. To meet customer demand, this popular Niagara Falls hotel is now offering Clifton Hill Fun Passes, admission to Marineland Canada, admission to the Niagara SkyWheel and will include other fine choices in the future.
The new reservation system works in real-time, giving customer's current rates and availability and uses 128-bit security encryption to ensure safe and secure reservations.
What also makes the new site distinctive is the clean professional layout, large attractive photos, dynamic flash animations, streaming video tours, interactive maps and detailed descriptions of neighboring parks and attractions - all of which allow visitors to get an accurate impression of what's available in Niagara Falls and actually visualize their trip.
"It's a way for our guests to fully appreciate the thrill of Niagara Falls before they arrive", said Tritchew. "Our website is designed to help guests plan and book a "no surprise", hassle-free vacation in Niagara Falls, Canada."
The new site genuinely represents the 3 Diamond Comfort Inn Clifton Hill property and does a fine job highlighting the hotels close proximity to Niagara Falls and the Clifton Hill tourist area, as well as their large and relaxing indoor pool area, their plentiful continental breakfast and their remarkably attentive customer service.
For further information please contact:
Nicholas Tritchew,
Manager, Interactive Marketing
HOCO Entertainment & Resorts
4960 Clifton Hill, P.O. Box 60
Niagara Falls, ON.
Canada, L2E 6S8
905-357-5911
###