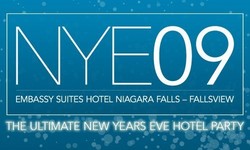 Niagara Falls, ON (PRWEB) October 24, 2008
The end of the year is rapidly approaching, and whether that inspires thoughts of new opportunity in 2009, or a year that might have been spent a little more wisely, it's the perfect time to book a getaway to beautiful Niagara Falls. Ring in the new year alongside one of the natural world's greatest wonders, illuminated by powerful spotlights and the explosive beauty of a world-class fireworks display.
Dancing shoes are a requirement on New Year's Eve, and the Embassy Suites Niagara Falls has the perfect vacation package to make the most out of the final hours of 2008. Luxury accommodations in a two-room suite serves as the staging point for a fantastic night, along with a voucher for fine dining at one of the hotel's excellent restaurants. An evening manager's reception follows, with complimentary drinks, snacks, and party favours to celebrate the new year. Champagne will flow at midnight as toasts are made, and the DJ guides guests through a night of dancing from 9pm until 2am the next morning. Once that morning rolls around, a complimentary cooked-to-order breakfast is available for all members of your party.
Aside from all this, vouchers are provided for shuttle service to the Casino, the Falls and other nearby attractions to complete the perfect New Years experience, situated near one of Earth's most beautiful backdrops and amongst the finest amenities and attractions that Canada has to offer. Book your package today, and experience a New Years celebration to rival all others.
###