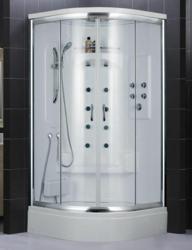 Niagara SHJC-2140406-01 makes the showering experience one of a kind with its 10 adjustable body jets.
Aiken, SC (PRWEB) December 08, 2012
DreamLine Niagara is a robust, versatile, and elegant jetted shower cabin that incorporates a number of amenities. The backwall of the cabin is a single piece made out of white Acrylic (reinforced with fiberglass), which incorporates a molded seat and accessory compartments. The front of the cabin is surrounded by a molded glass door and two flat, stationary panels made out of ¼" thick, tempered clear glass. The curved front panels of the door swing open to the sides, leaving a walk-in opening of 23 1/4" wide. The frame of the door and side panels is made out of anodized aluminum with polished chrome plating.
The cabin is designed to be mounted in a corner against finished or unfinished walls. The cabin's base has a set of leveling legs which make it easy to level the floor as needed. The overall exterior height of the cabin is 90 1/2", the interior height is 74 3/8"; the side walls are 39 3/8" wide (exterior measurement). The diagonal measurement from the inside corner of the cabin to the middle of the door is 46 ¾".
Niagara SHJC-2140406-01 makes the showering experience one of a kind with its 10 adjustable body jets, a pivoting hand-held shower head mounted on a slide bar, a rain shower head mounted in the cabin's roof and a foot massager with jets. The water outlets are controlled by a thermostatic valve that is integrated with four independent diverter valves. The integrated valve has five knob handles. The top four handles turn water on/off individually to a particular outlet (i.e. body jets or shower head, thus all outlets can run at the same time) while the bottom handle controls the water temperature.
The SHJC-2140406-01 shower cabin can be transformed into a steam shower by adding an optional SHSK-4000-00 4kW steam generator with a control kit.
DreamLine's recommendations for cleaning acrylic surfaces are as follows: Acrylic should be cleaned with warm water and a clean, nonabrasive cloth. If desired, a mild, nonabrasive detergent may also be used. Window cleaning sprays, alcohol, kitchen abrasive compounds, or solvents (such as acetone, gasoline, or thinners) should never be used. Ammonia based cleaning solutions will etch the acrylic surface and cause permanent damage. In order to eliminate light scratches from the acrylic surface, a buffing compound such as car wax can be used. The surface needs to be buffed by hand until scratches disappear.
DreamLine Niagara shower cabins are now available at Warehouse USA – http://warehouse-usa.com. They are on sale with free shipping throughout 48 contiguous states. For more technical information or if in doubt please do not hesitate to call 888-693-8066.