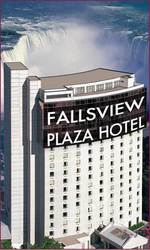 Niagara Falls, ON (PRWEB) March 6, 2008
The Fallsview Plaza Hotel and Niagara Fallsview Casino Resort announces the new and limited-time offering a fantastic package geared towards those that crave the ritz and excitement of the magnificent fallsview hotel, and its high-class casino. Venturing out into the cold need never be a concern, as the casino is connected to the Fallsview Plaza Hotel via an enclosed indoor walkway.
The casino itself sports over three thousand slot machines and more than one hundred and fifty gaming tables, everything from craps and blackjack to tournament poker and thrilling roulette tables. The Fallsview Casino Token Package includes one night in the spacious and glamorous hotel overlooking Niagara Falls, a voucher for a romantic Fallsview dining experience at the Keg Steakhouse & Bar. Breakfast for two will be served in the dining room, and complimentary shuttle passes for two will whisk vacationers to Niagara Falls and to the various nearby Niagara attractions. For those who have not yet experienced the Fallsview Casino or Niagara Falls, this valuable package serves as an introduction to the wonders of Niagara Falls and its many attractions.
The package includes $20.00 in complimentary casino gaming tokens to test the luck of any gaming enthusiast in the expansive and modern casino. The thrill of the dice, the suspense of the cards, and the grandiose clamor of a winning slot machine fills the building as visitors try their hands at the casino's many table games and slots. To take advantage of this exciting and limited time offer, is to let the Fallsview Plaza Hotel design the perfect Niagara Falls casino getaway, beginning at the Fallsview Plaza Hotel and Casino.
###