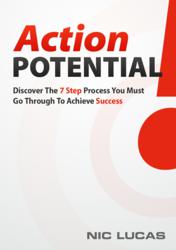 Action Potential leads readers through the 7-step process necessary to expand their career and experience greater fulfillment, remuneration, recognition and opportunities.
Sydney, New South Wales (PRWEB) October 22, 2012
Leading researcher and health professional turned successful entrepreneur and digital marketing specialist, Dr Nic Lucas, has just released the second report in the 'Reinvention Blueprint' series, aimed squarely at professionals who feel unfulfilled as their expertise fails to generate enough remuneration, recognition or opportunities. Entitled 'Action Potential', this white paper draws upon a popular behavioural science model and the real-life experience of the author and his many coaching clients, to lead readers through the 8-step process necessary to expand their career and experience greater fulfillment.
While the model can be used by readers to progress their traditional career path, the author believes its power lies in being used to identify more entrepreneurial activities which leverage off the skills, knowledge and experience they already have.
As Dr Lucas explains, "Action Potential draws upon the Transtheoretical Model of Behaviour Change, and clearly identifies the 8 steps necessary for change as well as the precise process and decisions that enables you to move forward from each juncture."
"By fully understanding the entire process of career change, you can easily identify where you are. Then you can also understand why you are successful, or conversely, you can discover why you keep getting stuck, not moving forward or making the same mistakes."
After first discovering this model while practicing as a Health Professional, Dr Lucas has since been applying it for his own ongoing career reinvention and teaching it to coaching clients for over 10 years. The continuous stream of results gained from its use has caused Dr Lucas to bring it across to the business world for professionals to understand and exploit for their own career gain.
"By using the methods outlined in this report, you'll be able to answer the question of why you've been planning to start your own business for the past 10 years but never have. You'll realize what the real decision is and either decide to go ahead or you decide to give yourself a break and not even do it!", states Dr Lucas.
"I see so many people who contemplate doing something for years and years and years and it takes up all of this mental energy! If they just decided I'm not going to do it, I'm never going to do that, it then frees them up to go do something that they will actually do."
Action Potential aims to demonstrate that success is the result of a change in behavior, and that there are certain practical and outcome oriented behaviors that are proven to increase the chance of success.
"If you want career change, then you need to change your behaviour to create what you want. After reading Functional Rhythm, which is the first paper in this series, you've already identified what it is you want to do, but before you go ahead and pretend that you're going to instantly create this new life, you need to understand if you are actually going to follow through and do it.
"In this report, you'll find the exact steps you have to go through if you're going to make the changes required to get what you've identified you want in your life."
The second report in the 'Reinvention Blueprint' series and is available online now. For more information, visit http://www.niclucas.com/action-potential
About Dr Nic Lucas
Over the years, Dr Nic Lucas has become a specialist at reinventing his own career. After spending time in the finance industry, retail industry, and music industry as a young adult, he returned to university to become a scientist and health professional. Nic ran his own practices over 10 years, became a lecturer, and undertook a PhD in medical diagnosis.
Nic has also started his own publishing company, become the editor of a scientific journal and began a successful international speaking career. He has started an education company, a digital marketing consulting company, developed his own online software platforms, written a number of books and most recently started a coaching business to help professionals implement the strategies that he himself has used to help them achieve their own success.