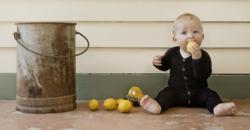 Sylvan Lake, Mich. (Vocus/PRWEB) March 10, 2011
Niche Retail LLC, an industry leader in providing world-class eCommerce solutions, announces its new partnership with baby clothing designer and retailer, Estella. The luxury baby boutique, based in New York City, offers designer brands, as well as its own line of eco-friendly baby clothing, made in the United States.
Estella selected Niche Retail as its eCommerce partner based on experience and expertise in the online retail industry. Niche Retail will help Estella achieve its goals of growing online sales, increasing brand recognition, and boosting conversion rates.
"We're very excited about our partnership with Niche Retail. This alliance allows Estella to focus on product development and growing the brand, while leaving our eCommerce efforts to the experts," said Estella Founder Chike Chukwulozie. "There is a large market of parents out there - beyond celebrities, stylists and royalty - that are looking for high-end, luxury clothing for their kids. Niche Retail will help us expand our reach and tap into that much larger web-based market."
As an innovator in the eCommerce industry, Niche Retail designs, builds and operates Direct-to-Consumer and Business-to-Business online sales channels for premium brands. Adding additional value to brand partners, Niche Retail also offers a range of services including: Internet Strategy, Direct-to-Consumer & Retail Solutions, Marketing and Merchandising, Channel Support, Customer Care and Customer Relationship Management, Warehousing and Logistics, and Business Intelligence.
As a Magento Enterprise Partner, Niche Retail will utilize Magento's open source eCommerce platform to optimize the current estella-nyc.com, engage customers and enhance the customer experience, and design effective marketing campaigns.
The online luxury boutique features designer baby clothes from Jellycat, Kit + Lili, Appaman, and Album di Famiglia. Estella has its own brand of baby clothes, including onesies, rompers, tee shirts, leggings and baby layettes made of bamboo cotton. All Estella brand products are made from sustainable materials and manufactured in the United States.
"We see huge growth potential for Estella, and we believe our experiences in online retail and management of direct-to-consumer websites, in addition to our expertise with Magento, will deliver optimal results of estella-nyc.com. We expect the Estella brand to excel," said Niche Retail President Jeff Grice.
About Niche Retail
As partners to leading national and international brands, Niche Retail is "everything but the brand" – designing, building and operating Direct-to-Consumer and Business-to-Business online sales channels, which enable the branded manufacturers to focus on product innovation and sales. Niche Retail provides its experience and expertise in eCommerce channel efforts to enhance brand equity, increase sales and improve margin. Niche Retail backs each partnership with warehousing and distribution support and dedicated customer care representatives at its headquarters in Sylvan Lake, Michigan. For more information about Niche Retail, visit http://nicheretail.com.
About Estella
Renowned as the source for cutting-edge kids clothes, Estella has quietly established itself as the designer infant clothing shop that celebrities, stylists, royalty and those in the know look to when they want something fresh. Featuring distinctive and unique baby clothes and kids' clothes that are brought to life with modern designs, incredible detail, unusual colors and sumptuous fabrics, Estella's innovative approach offers gorgeous items selected for beauty and character. Founded in 2002, Estella is privately held and headquartered in New York, NY. For more information about Estella, please visit the company's website at http://www.estella-nyc.com.
###