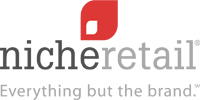 We use our experience and expertise as a retailer and technology innovator to enhance brand equity, increase sales and improve margin by providing strategic eCommerce guidance
Sylvan Lake, MI (PRWEB) October 18, 2010
Niche Retail LLC, an industry leader in providing world-class eCommerce solutions, announces its recent Enterprise Partnership with Magento. As a Magento Enterprise Partner, Niche Retail joins a dedicated community of developers and designers working together to expand and improve upon the core functions of the world's fastest growing eCommerce platform.
With Magento, Niche Retail will further advance its online sales channel capabilities. Niche Retail designs, builds and operates Direct-to-Consumer and Business-to-Business online sales channels for leading national and international brands.
"We use our experience and expertise as a retailer and technology innovator to enhance brand equity, increase sales and improve margin by providing strategic eCommerce guidance, site design/development, promotion, SEO, site management, analytics, customer care and distribution," said Niche Retail Co-Owner and President Tyler Smith.
"The partnership with Magento represents a significant commitment to innovative technology which aligns with our unique capabilities as an innovative eCommerce leader in the industry."
Magento is an open source eCommerce platform that provides clients complete flexibility and control over the appearance, content and functionality of their online store. With its modular architecture; advanced applications and themes; and marketing, merchandising and content management tools; Niche Retail has the ability to customize eCommerce platforms for each of their clients to meet their unique business needs.
"By offering this platform as a possible solution, we are able to accelerate our advances in eCommerce," said Niche Retail Chief Operating Officer Jeff Grice. "Since Magento is portable and easy to maintain, the eCommerce site becomes the brand's asset. Therefore, if in the future our partners want to operationalize eCommerce internally they can easily accomplish this through Niche Retail."
Niche Retail operates upwards of 20 of their own online retail stores and supports leading global brands, including Clek booster seats, phil&teds strollers, Suunto watches, Bugaboo strollers, Lafuma furniture, and Kestrel Meters.
"We are thrilled to have Niche Retail join the Enterprise Partner ranks of Magento. What makes Niche unique is at their core they are an accomplished online retailer that has expanded their business to help global brands develop their direct-to-consumer strategy and channel development based on the Magento platform," said Magento Senior Director of Worldwide Channels, Scott Dahlgren.
About Niche Retail
As partners to leading national and international brands, Niche Retail is "everything but the brand" – designing, building and operating Direct-to-Consumer and Business-to-Business online sales channels, which enable the branded manufacturers to focus on product innovation and sales. Niche Retail provides its experience and expertise in eCommerce channel efforts to enhance brand equity, increase sales and improve margin. Niche Retail backs each partnership with warehousing and distribution support and dedicated customer care representatives at its headquarters in Sylvan Lake, Michigan. Visit Niche Retail for more information.
About Magento
Magento is the fastest growing eCommerce platform in the world with over 180 solution providers and 60,000 merchants, including leading brands, innovators and large retailers enabling over $25 Billion in transactions each year. Magento is a feature-rich, professional Open Source eCommerce platform solution that offers merchants complete flexibility and control over the presentation, content, and functionality of their online channel. Based in Los Angeles, Magento is a fast-paced, entrepreneurial organization dedicated to the mission of enabling the worldwide eCommerce ecosystem. For more information, visit Magento Commerce.
###