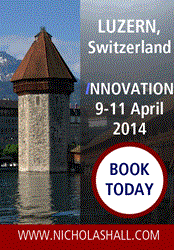 Book today and benefit from the Early Bird price saving up to £400!
(PRWEB UK) 30 September 2013
In just six months time, the 25th Nicholas Hall's INSIGHT OTC Conference & Action Workshop will take place in Luzern, Switzerland at the Palace Hotel. Inviting over 150 delegates from the OTC consumer health / pharma sector, it is the perfect opportunity for key decision-makers to meet with other peers of the industry.
Nicholas Hall, Chairman & CEO of Nicholas Hall & Company, will open the Event with the keynote speech providing delegates important data from DB6 Global OTC Database as well as insight about the industry. Following this, each guest speaker will present in the theme of 'iNNOVATION'. Nicholas Hall & Company is pleased to announce the first guest speaker, Elizabeth Morgan, Innoweaver Ltd, who will present on 'Trends in Consumer-Facing Businesses: Sustainability', will provide examples of how leading companies in other sectors are organising themselves to drive innovative sustainability initiatives, putting themselves in powerful positions. In the context of OTC, Elizabeth will use this as examples of how consumer health companies could apply key learnings for the future.
Secondly, Anand Sharma, CEO of Growth Angle, will share his experience from the leading FMCG companies. Anand will focus on 'Creativity, Innovation and Entrepreneurship' and from this, delegates can expect to walk away with 3 new innovative ideas to put to use.
The 25th Nicholas Hall's INSIGHT OTC Conference & Action Workshop is not just about industry presentations, it will also recognise the best marketing campaigns at the Nicholas Hall OTC Marketing Awards Ceremony 2014. To enter your campaign, please contact Jennifer at jennifer.odonnell(at)NicholasHall(dot)com.
'iNNOVATION' continues to be the theme for a brand new product of Nicholas Hall & Company, which will be announced at the event. To be informed about this new product, please email Val at val(dot)tsang(at)NicholasHall(dot)com quoting 'Project Innovation'.
Keep informed about the line up on our website. The team looks forward to welcoming everyone in Luzern.
How to book:
Please visit the Nicholas Hall website
How to enter for the Awards:
There are three Categories, please click here to find out more: http://www.nicholashall.com/nicholas-hall-awards/
Event & Awards Contact: Jennifer(dot)odonnell(at)nicholashall(dot)com