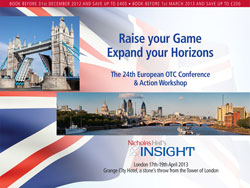 Raise Your Game, Expand Your Horizons
UK (PRWEB UK) 11 April 2013
The 24th Nicholas Hall's INSIGHT European OTC Conference will be taking place from the 17th to 19th of April 2013 at the Grange City Hotel in London. The capital enjoyed a buzz from an eventful 2012, with the capital taking centre stage at the 2012 Olympics. It is fitting that this year's theme is 'Raise Your Game, Expand Your Horizons'. The event will consist of an OTC Action Workshop, followed by a two-day conference focusing on marketing achievements and innovations in the OTC industry.
Three demographic groups: Men's Health, Women's Health and Children's OTCs will be the subjects of the Action Workshop. These three target groups offer both opportunities and challenges to OTC marketers across the globe, and will be explored by the workshop moderators: Nicholas Hall, Chairman and CEO, in association with Josephine Van Vreeswijk, Client Services Director, and Professor Ian Banks, President of the European Men's Health Forum; these workshops will be fully interactive allowing delegates to discuss and debate.
Guest speakers will give presentations with a focus on their respective fields, sharing experiences and expertise in the theme of the event; they will include:

Richard Learwood, Global Director Brand Strategy & Innovation at PGT Healthcare
Stefano Galli, Global Business Partner at Nielsen
James Hall, Chief Pharmacovigilance Officer at JensonR+
Andy Hayley, Managing Director at TBWA / Paling Walters
The conference will also play host to the Nicholas Hall Awards, a collection of three awards to celebrate product and marketing innovations and creativity in the OTC industry, in Europe. Last year's winners included Bayer and Reckitt Benckiser.
With over 150 delegates attending, Nicholas Hall's OTC Conference provides a great opportunity for players in consumer healthcare to meet and discuss, therefore introduced for the first time at this year's conference will be two networking sessions. These sessions will enable attendees to make the most of having key industry personnel in one place.
Nicholas Hall and the team look forward to welcoming attendees in London in two weeks.
About Nicholas Hall & Company
Since 1978 Nicholas Hall & Company has offered comprehensive OTC marketing and business solutions. Specialising in OTC, our consultants and market analysts have many years of experience while our international network of contacts means we can offer strategic advice, data & analysis and competitive intelligence on a global scale.
Nicholas Hall's Conferences & Action Workshops invites delegates to discover new ideas, debate issues and developments with industry peers. Nicholas Hall leads most of the events personally and is supported by a panel of guest speakers. With a large group of delegates from markets across the world, the conference offers relaxed networking opportunities.
Editor's Notes:
The Nicholas Hall's INSIGHT 24th Annual OTC Conference will be held between the 17th-19th of April 2013 at the Grange City Hotel, London. For booking information, please contact Valerie Tsang.
Contacts:
Media Contact
Valerie Tsang, Group Director of Marketing & Sales
Email:Val.tsang(at)NicholasHall(dot)com | Telephone: 01702 220223
Website: http://www.NicholasHall.com