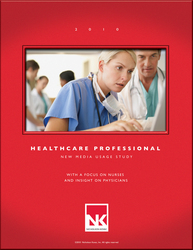 With Twitter usage estimated to be at 20 percent of U.S. adults, nurses and doctors are about a year behind the general population in terms of use.
Kansas City, MO (PRWEB) February 24, 2010
A recent study conducted by Nicholson Kovac, Inc. reveals some surprising findings about new media, including social media, use among nurses and physicians. Most are using their mobile phones for texting, and other applications for both personal and professional reasons. Additionally, the Internet is a key tool for them for healthcare and academic research-related information and as knowledge of social networking sites grows, a majority of healthcare professionals plan to use these sites in the future for professional development reasons.
"With Twitter usage estimated to be at 20 percent of U.S. adults, nurses and doctors are about a year behind the general population in terms of use," said Pete Kovac, Nicholson Kovac President/CEO. "While many feel overburdened by multiple demands on their time, some healthcare professionals are embracing Twitter and other social media channels including blogs."
The 34-page study explores nurses' use of new media for both personal and professional applications. It found that:

Eighty seven percent of the nurses surveyed access the Internet for business/professional reasons.
Those who use their mobile phones or PDAs for business list "texting" as the number one application, followed by e-mail and accessing the Internet.
Approximately 83 percent of those surveyed access Web sites for information related to healthcare and 41 percent specifically look at manufacturers' Web sites for information on products and services.
Eleven percent of nurses are using Twitter and 77 percent have visited Facebook. Nearly a quarter also have visited LinkedIn.
Sixty five percent of nurses plan to engage in social media in the future for professional development reasons.
Those who access blogs do so primarily for education and professional development.
A companion study of new media usage among physicians showed similar results. Like nurses, texting, e-mail and accessing the Internet are the top uses among doctors. When it comes to social networking sites, 88 percent have visited Facebook and 16 percent indicate they are using or have visited Twitter. Nearly a quarter of those surveyed spend more than 20 hours per week online.
A study by the Pew Internet Project shows that 55 percent of consumers want to be able to e-mail their doctors and 61 percent of Americans go online for health information, with the majority of them turning to user-generated content for health information. As nurses and doctors both indicate that they see their online and social media usage growing in the future for professional reasons, the gap may be closing in terms of patient/doctor digital communications. There is evidence from many healthcare professionals that social media, as well as mobile media, can create streamlined environments for patient support, and peer engagement; while providing a resource for learning about new treatments, products, technologies and more.
Findings from the Nicholson Kovac study were based on the insights of 292 nurses who completed a proprietary online survey in December 2009. While the study focuses on nurses, qualitative insights on new media usage among physicians were culled from 50 surveys conducted by Nicholson Kovac during the same time frame.
The study is the third in an ongoing series of studies conducted by Nicholson Kovac designed to capture data about Internet, mobile and social media usage among various vertical market segments. The first study focused on new media usage among large-acreage crop producers and showed that both social media and new media are becoming important communication channels for corn and soybean growers across the country. The second study highlighted social media use among small animal and large animal veterinarians, and included an overview of new media/social media usage among dog and cat owners.
Detailed findings, including personal and business demographics of participants and other highlights for all three studies, can be accessed by visiting Nicholson Kovac's Web site (http://www.nicholsonkovac.com) or at http://www.nicholsonkovac.com/#/other/studies.
About Nicholson Kovac, Inc.
Nicholson Kovac, Inc., an integrated marketing communications company, is counted among the top independent advertising agencies in the country and serves national and global brands. At the heart of Nicholson Kovac's work is Relevant Ingenuity SM a proprietary process of discovering the relevant issues long before the search for creative solutions begins. The result is smarter, more efficient communications that deliver measurable results for clients. For additional details, visit http://www.nicholsonkovac.com or follow us on Twitter at http://twitter.com/nicholsonkovac or http://twitter.com/FPeteKovac.
# # #