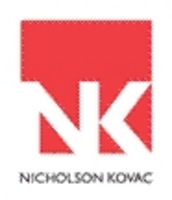 company can produce packaging with sex appeal.
Kansas City, MO. (PRWEB) October 30, 2009
Three Nicholson Kovac, Inc. campaigns, including the "O-I Specialty Market" print ad, "O-I Natural Glass" print campaign and "Kinze Manufacturing Trade Show," were honored among BtoB's Magazine's Best Creative of 2009, announced earlier this week.
BtoB's Best 2009 recognizes the best multi-national business-to-business marketing communications creative efforts for the past year, as selected by BtoB Magazine's editors, who award only one winner in fifteen marketing communications categories. Nicholson Kovac also received this exclusive recognition for multiple clients last year. Work for clients 3M and FMC Corporation was honored among BtoB's Best Creative of 2008.
The "O-I Specialty Market" print ad, winner in the Single Print Ad category, was developed for Owens-Illinois, Inc. (O-I), the world's largest glass packaging manufacturer, and launched in July 2009. The ad, which features a "seductively lit" liquor bottle and various silhouettes of specialty bottles that O-I can create, shows that the "company can produce packaging with sex appeal." The copy reads, "Be it sexy, sleek or sophisticated, an O-I bottle says a lot about what's on the inside," and signs off with a pun: "Our specialty solutions are truly top shelf." BtoB says, "And so is the photography in this ad--as is the ad itself."
The "O-I Natural Glass" campaign, runner up in the print campaign category, launched in April 2009 and touts the environmentally friendly aspects of glass with what BtoB calls "arresting, clever images." One ad features a cluster of green and blue bottles arranged to resemble a bunch of grapes with the headline "Natural selection." Another ad includes imagery of a group of green bottles that form the "familiar arrows of the recycling symbol" with the headline "Completely natural. Endlessly recyclable."
"Our creative team sees the beauty of glass and wanted to bring its luster to life," said Jack Swearengin, vice president, director of creative services at Nicholson Kovac. "The challenge was to highlight the versatility of glass, its environmental friendliness and its ability to preserve the flavor of its contents, and they were able to bring forth those images and messages in different ways that resonated with O-I's key audiences."
The "Kinze Manufacturing Trade Show" initiative, which received an honorable mention in the trade show category, was built around the theme "Think in rows." This theme emphasizes that Kinze is a specialist in its field. Copy from a direct mailer reads, "Unlike the other guys, we're specialists in our field, bringing superior equipment to yours." Kinze's trade show booth reflected the integrated marketing communications campaign launched earlier in the year.
"These award-winning campaigns are true examples of Nicholson Kovac's Relevant Ingenuity," said Pete Kovac, the agency's president and CEO. "Though the marketing situations are somewhat complex, our teams listened to our clients and the marketplace, and were able to discern why the target audiences would care. The ideas behind the campaigns are simple and ingenious, but highly relevant and results driven."
About Nicholson Kovac, Inc.
Nicholson Kovac, Inc., an integrated marketing communications company, is counted among the top independent advertising agencies in the country and serves national and global brands. At the heart of Nicholson Kovac's work is Relevant IngenuitySM a proprietary process of discovering the relevant issues long before the search for creative solutions begins. The result is smarter, more efficient communications that deliver measurable results for clients. For additional details, visit http://www.nicholsonkovac.com.
# # #