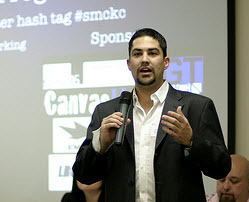 IMS is different from other conferences, as integration is the main focus, regardless of the medium.
Kansas City, MO (PRWEB) March 25, 2010
Chris Kovac, director of social influence at Nicholson Kovac Inc., will speak at the Integrated Marketing Summit in Atlanta, Ga., on Tuesday, March 30, about the best practices in social media engagement. Registration details and event information can be found at: http://bit.ly/d259mg.
Kovac will discuss how to integrate social media into traditional and online marketing communications, as well as offer tips on social network marketing, the importance of social media monitoring, and more.
"I believe there's a lot of untapped opportunity for integrating social media into traditional marketing communications," Kovac said. "Social media can drive offline conversations, and traditional media can drive conversations in the social media channel. With the proliferation of social media sites, it is important to have a cohesive and relevant message, regardless of the medium."
Social media offers marketers a unique and interactive platform to communicate with their target audience. Kovac emphasizes the opportunities this offers companies across numerous industries.
"Social media has been a hot topic with consumer marketing in the last two years," Kovac said. "We are now beginning to see more activity with B-to-B marketers, and that is exciting."
Kovac has more than 13 years of experience in strategically grounded interactive marketing communications. One of the co-founders of the Interactive Services unit at Nicholson Kovac, he has developed a number of interactive marketing disciplines for the agency, including search marketing (SEO and SEM), e-mail communications, Web analytics, online research, online media placement and social media.
He has worked with many Fortune 500 companies and other top brands including Sprint LTD, 3M HealthCare, Owens-Illinois (O-I), Wellmark Blue Cross and Blue Shield, Pfizer, Merck, Genentech, FMC, Dictionary.com and many others. He is also a board member for the Kansas City chapter of the Business Marketing Association.
The 2010 Integrated Marketing Summit (IMS) will feature two keynote presentations and 30 expert speakers from agencies, service providers and companies on the leading edge of integrated marketing. The focus of the summit is to provide marketing and sales professionals with the best practices, technologies and expertise they need to Drive Revenue Rapidly. Presentations will focus on a broad spectrum of topics including social media and public relations, online and offline marketing, marketing automation and lead management, tracking return on marketing investment, and integrated marketing best practices and case studies.
"The Integrated Marketing Summit is emerging as one of the premier marketing conferences in the country," Kovac said. "IMS is different from other conferences, as integration is the main focus, regardless of the medium."
About Nicholson Kovac, Inc.
Nicholson Kovac, Inc., an integrated marketing communications company, is counted among the top independent advertising agencies in the country and serves national and global brands. At the heart of Nicholson Kovac's work is Relevant IngenuitySM a proprietary process of discovering the relevant issues long before the search for creative solutions begins. The result is smarter, more efficient communications that deliver measurable results for clients. For additional information, visit http://www.nicholsonkovac.com.
About Integrated Marketing Summit
IMS is the signature summit for marketing and sales professionals in both B-to-B and B-to-C markets throughout the United States. IMS provides actionable insights, expertise and cutting-edge information in a convenient, affordable one-day educational format. Additionally, the IMS offers hands-on workshops the day after the conference. For more information about IMS, visit http://www.integratedmarketingsummit.com.
###