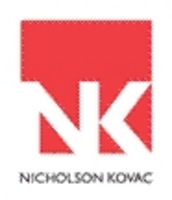 Our newest team members, Sam, Holly and Stephanie, are outstanding professionals that will bring a fresh outlook to Nicholson Kovac
Kansas City, Mo. (PRWEB) July 16, 2009
Sam Hendricks, Holly Johnson and Stephanie Pruitt have joined Kansas City-based Nicholson Kovac, Inc., as Interactive Art Director, Project Manager/Business Systems Analyst and Public Relations Account Executive, respectively.
"Our newest team members, Sam, Holly and Stephanie, are outstanding professionals that will bring a fresh outlook to Nicholson Kovac," said Pete Kovac, agency co-founder, president and CEO. "They will be great assets to our expanding creative, digital services and public relations departments."
Hendricks first joined Nicholson Kovac as an intern three years ago and has returned to the integrated marketing agency as an interactive art director. After two years at VML, Hendricks felt that Nicholson Kovac provided a great opportunity as the agency enhances its creative team. He hopes to help Nicholson Kovac's clients understand current trends and leverage them to enhance their brands.
"I have been working in interactive art direction for two years now and I am anxious to put my knowledge and experience into my work at Nicholson Kovac," Hendricks said.
Hendricks graduated from the University of Kansas with a bachelor's degree in visual communications with concentrations in graphic design and illustration.
With six years of advertising agency experience, Holly Johnson will serve as Project Manager and Business Systems Analyst in Nicholson Kovac's Digital Services department. Johnson comes to the agency from MMG Worldwide, where she acquired an eye for detail in developing and maintaining Web sites. In her new role, she will have an essential part in developing and directing clients' online strategies.
"Nicholson Kovac has a solid reputation in Kansas City for its marketing services," Johnson said. "I am looking forward to applying my skills in interactive intelligence to our projects."
Johnson graduated from the University of Kansas with a bachelor's degree in advertising.
Prior to joining Nicholson Kovac, Pruitt was a communications assistant at the Texas Corn Producers Board and the Texas Peanut Producers Board., where she worked on risk management communications during the U.S. peanut product recalls. As Public Relations Account Executive, Pruitt will be putting her agriculture communications skills to work for the agency's agriculture accounts.
"I am looking forward to working in a unique integrated marketing firm that offers a lot of opportunities for growth," Pruitt said. "I want to fulfill my clients' needs, but also have fun while doing it."
Stephanie graduated from Texas Tech University with a bachelor's degree in agricultural communications.
About Nicholson Kovac
Nicholson Kovac, Inc. (formerly NKH&W, Inc.) is an integrated marketing communications company with capitalized billings approaching $100 million. It is among the top 40 largest independent agencies and serves national and global brands. At the heart of Nicholson Kovac's work is Relevant Ingenuity SM , a proprietary process of discovering the relevant issues long before the search for creative solutions begins. The result is smarter, more efficient communications that deliver measurable results for clients.
# # #