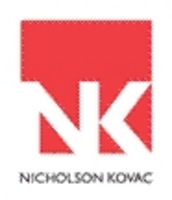 Patty and Brian's proven leadership skills and extensive industry experience will be tremendously beneficial to Nicholson Kovac's account service team and to our clients
Kansas City, MO (PRWEB) July 14, 2009
Kansas City advertising veterans Patty Jolliffe and Brian Howard have joined the account service team at Nicholson Kovac, Inc., as Management Supervisor and Account Supervisor, respectively.
"Patty and Brian's proven leadership skills and extensive industry experience will be tremendously beneficial to Nicholson Kovac's account service team and to our clients," said Pete Kovac, Nicholson Kovac president and CEO.
Before joining Nicholson Kovac, Jolliffe served as Group Account Supervisor at BKV, where she managed integrated marketing communications plans and programs for Caterpillar FCC Equipment Financing and Goodyear Commercial Tires. Her 25 years of experience extends into the agriculture industry, where she led numerous marketing programs for Farmland Industries, John Deere, John Deere Credit, Beltwide Cotton Genetics and Delta King Soybeans
"I have always had a high regard for Nicholson Kovac and was drawn to the agency because of its proven planning process," Jolliffe said. "I look forward to working with the entire Nicholson Kovac team to generate the successful results our clients want and deserve."
Jolliffe graduated from Park University with a bachelor's degree in business administration - marketing.
Howard brings 12 years of experience in animal health, agriculture and telecommunications to the Kansas City-based integrated marketing communications agency. Prior to joining Nicholson Kovac, Howard spent two years working on the Bayer account at Bernstein-Rein. He has also worked with several Fortune 500 companies, including Sprint and AGCO Corporation.
"Just like Patty, I was fascinated with Nicholson Kovac's proprietary strategic planning process and I look forward to utilizing this process, along with my expertise in brand development and high profile business and product launches, to deliver top-notch work for our clients," said Howard.
Howard graduated from the University of Kansas with a bachelor's degree in advertising.
About Nicholson Kovac:
Nicholson Kovac, Inc. (formerly NKH&W, Inc.) is an integrated marketing communications company with capitalized billings approaching $100 million. It is among the top 40 largest independent agencies and serves national and global brands. At the heart of Nicholson Kovac's work is Relevant Ingenuity SM , a proprietary process of discovering the relevant issues long before the search for creative solutions begins. The result is smarter, more efficient communications that deliver measurable results for clients.
# # #