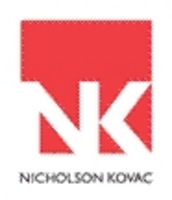 Our strategic model of Relevant Ingenuity persists as the common foundation for each of these award-winning campaigns.
Kansas City, MO (PRWEB) November 3, 2009
Kansas City's Business Marketing Association presented Nicholson Kovac, Inc. with nine honors during its Fountain Awards banquet, including five Fountain Awards and four Certificates of Merit.
The BMA Fountain Awards banquet is the only event in Kansas City exclusively honoring the strategic and creative work of business-to-business marketing professionals and is the largest event for the Kansas City Business Marketing Association, drawing more than 200 entries.
Entries for the 14 categories were scored by a three judge panel based on creativity, production, selling proposition and results. Fountain Awards were presented to the entries in each category with the highest score, with the second highest score receiving a Certificate of Merit.
"Our strategic model of Relevant Ingenuity persists as the common foundation for each of these award-winning campaigns," said Pete Kovac, the agency's president and CEO. "Although clients' marketing challenges differ, our talented teams listen to client needs and incorporate marketplace knowledge to discern the best methods to reach target audiences and accomplish our clients' goals."
Nicholson Kovac's work for client Kinze Manufacturing received three Fountain Awards, all related to the "Think in Rows" campaign. This series of marketing and communications materials featured images of a "Kinze brain" including brain matter in crop-like rows. The campaign won a Fountain Award in the category of "Integrated Multi-Media Campaigns Over $75,000" and included the copy, "Rows. It's all we think about."
A related print ad won a Fountain Award in the "Single Print Ad in Color" category and compared a "normal" brain to the Kinze brain featuring the copy, "Darn right we think differently." Kinze's "Think in Rows" anthem video also won a Fountain award in the "Digital Marketing, Video" category.
A Story Book Radio Spot for client FMC won the Fountain award for the "Broadcast Advertising Single Radio Spot" category, and an ad from Nicholson Kovac's "Think in Red" campaign, featuring handcuffs and the copy, "We don't believe in taking political prisoners," won a Fountain Award for "Self Promotion" in the "print or single ad" category.
Nicholson Kovac also won Certificate of Merit awards for the following categories and client campaigns:

Logo Design: FMC's "Cadet" logo
Single Radio Spot: FMC's Hero product line "Get Out of My Head" spot
Single Channel Support Materials: O-I's "Naturally Go Together" trade show bag insert
Video: Kinze's "Think in Rows" DVD
"The ideas behind the campaigns are simple and ingenious, but highly relevant and results driven," said Kovac. "Receiving these awards is further proof of that fact, and we always appreciate the recognition from our peers in the business to business marketing industry."
In addition to Nicholson Kovac's honors at the BMA Fountain Awards, Pat Allen, the agency's office manager, was named Kansas City's 2009 BMA Member of the Year. Allen has been on the Kansas City BMA board of directors for 16 years and has made countless contributions to the chapter.
About Nicholson Kovac, Inc.
Nicholson Kovac, Inc., an integrated marketing communications company, is counted among the top independent advertising agencies in the country and serves national and global brands. At the heart of Nicholson Kovac's work is Relevant IngenuitySM a proprietary process of discovering the relevant issues long before the search for creative solutions begins. The result is smarter, more efficient communications that deliver measurable results for clients. For additional details, visit http://www.nicholsonkovac.com.
# # #