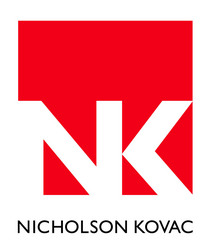 These are three very much-deserved promotions
Kansas City, Mo. (PRWEB) June 25, 2009
Nicholson Kovac, Inc., has promoted Stephanie Purvis, Allisyn Wheeler and Gina Yoder to Media Group Directors.
As Media Group Directors, Purvis, Wheeler and Yoder will closely work with Nicholson Kovac's Account Group Directors and Creative Group Directors to offer fresh perspectives and inventive media solutions to produce results-oriented work for Nicholson Kovac clients. They will also manage the media activities for a designated group of clients.
"These are three very much-deserved promotions," said Sheree Johnson, senior vice president and managing director. "As Media Group Directors, they will provide a wealth of expertise, experience and industry knowledge to their clients and media team. I'm looking forward to each of them assuming greater leadership roles within the agency."
Purvis joined the agency as Media Supervisor nearly five years ago from Bernstein-Rein, where she was a Media Supervisor.
Wheeler has been with the agency for more than four years and will also head up the agency's online advertising planning, placement and search engine marketing disciplines.
Yoder has been with Nicholson Kovac for nine years and has served as Media Supervisor for a number of clients.
About Nicholson Kovac
Nicholson Kovac, Inc. (formerly NKH&W, Inc.) is an integrated marketing communications company with capitalized billings approaching $100 million. It is among the top 40 largest independent agencies and serves national and global brands. At the heart of Nicholson Kovac's work is Relevant Ingenuity SM , a proprietary process of discovering the relevant issues long before the search for creative solutions begins. The result is smarter, more efficient communications that deliver measurable results for clients.
###