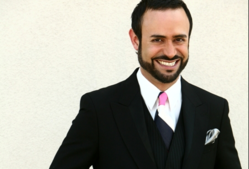 Nick's contemporary style, trained eye, insights and quick wit will add a new dimension to our competition.
Las Vegas, Nevada (PRWEB) August 27, 2012
Vegas Beauty Unbound, the world's premiere fashion, beauty, and style competition, education, and networking event, is pleased to announce that noted fashion designer and Project Runway alumni & LOOK TV host and style expert, Nick Verreos, has agreed to serve as the wardrobe judge for the Battle of the Strands: Xtreme Beauty finale. During the finale, at The Joint, Hard Rock Hotel and Casino Las Vegas, 5 remaining teams will compete head to head to bring a hair, makeup and fashion creation to life as part of a production number that highlights the entertainment spirit of Las Vegas.
During the final judging, Nick will critique their creations based on the execution of the overall look, quality of workmanship, creativity and level of difficulty. Additional judges, that have yet to be announced, will critique makeup, hair, style, and overall presentation to crown a winning team.
"We are thrilled that a fashion expert and personality such as Nick Verreos has agreed to be a judge at our finale, noted Erin Utter, Director of Operations for Vegas Beauty Unbound. "Nick's contemporary style, trained eye, insights and quick wit will add a new dimension to our competition."
About Nick Verreos
Nick Verreos received national and international recognition when he was showcased on Bravo's Project Runway. From there, Nick's insights and endearing personality have led him to recurring roles as fashion expert on TV Guide, E!, Style Network, Lifetime, CNN, NBC, Soapnet, CW and MTV to name a few. He most recently was featured in a national Ad Campaign for VIRGIN MOBILE and has worked alongside Macy's, Sears/Kmart and Orbit Gum. Under his label, NIKOLAKI, Nick has designed unique event gowns for celebrities including Marlee Matlin, Heidi Klum, Eva Longoria, Beyonce, Carrie Underwood, Kathy Griffin, and Katy Perry. He is a teacher and official spokesperson for the Fashion Institute of Design and Merchandising. (FIDM)
About Vegas Beauty Unbound
From October 20-22, Vegas Beauty Unbound will descend on Las Vegas with a three-day education and networking event for the beauty and fashion industry. Battle of the Strands 2012: Xtreme Beauty, is a winner-take-all contest between the country's elite and less recognized salons featuring outrageous challenges to showcase creativity and teamwork. The Top 10 salons will be flown to Las Vegas, all-expenses paid, and provided with tools and products needed for preliminary challenges and final competition at The Joint, Hard Rock Hotel.
Additional events include a spectacular runway show hosted by Kim Vō, a trade show of innovative industry products, a student competition, and Beauti Gras, a Mardi Gras style Halloween Party at Body English, to be held on October 21.
The entire event will be captured on film by LookTV, brought to you by Project Runway, as part of its ongoing chronicle of the Battle of the Strands competition and planned reality television show.
For More Information
For more information about Battle of the Strands, Elena Long, Communications Director, Vegas Beauty Unbound, at 702/990-3368 or 702/612-0394, email elena(at)emailbestbeauty(dot)com or visit vegasbeautyunbound.com.
For media credentials, please contact Mari Escamilla at Marketing Maven Public Relations via phone or email: (310) 994-7380 or mari(at)marketingmavenpr(dot)com