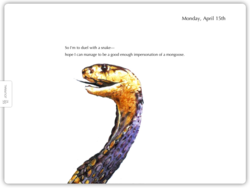 The Venetian App is beautiful, rich, fluid: this is what the book always wanted to be.
Santa Monica, CA (PRWEB) April 5, 2011
Nick Bantock captivated millions with his bestselling Griffin & Sabine series. The Venetian is his latest magical tale, designed especially for the iPad, with over 50 scintillating illustrations, whimsical animation, special audio surprises, and intuitive touch navigation.
Published by SageTales, The Venetian is the first in a series of digital books and Apps imagined for the iPad. Combining Bantock's signature blend of art and storytelling, The Venetian unfolds through a mysterious email correspondence. Mixing modern technology and alchemy, The Venetian takes readers on a journey that culminates in a reunion over 500 years in the making.
At a launch event, Mr. Bantock said, "I believe that the iPad gives artists and writers a platform that will ultimately transform all notions of storytelling." Annie Barrows, author of 'The Guernsey Literary Potato Peel Pie Society' said "The Venetian App is beautiful, rich, fluid: this is what the book always wanted to be."
The Venetian is currently featured in New & Noteworthy Books on the App Store at http://itunes.com/apps/thevenetian. An ebook edition of The Venetian is planned for release next month and a Griffin & Sabine App and other projects are currently in development.
About Nick Bantock
Nick Bantock has sold over 5 million books in 13 different languages, including the New York Times bestselling Griffin & Sabine series which spawned a new genre in publishing. Admired worldwide for his imaginative storytelling and incredible artistry, Bantock has also written for numerous international newspapers and magazines, won a lifetime BAFTA for the CDROM Ceremony of Innocence, and created artwork for over 300 books.
About SageTales
SageTales crafts imaginative digital books and applications. For more information visit http://www.sagetales.com
# # #