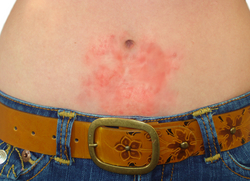 The U.S. is far behind Europe in its nickel allergy standards.
Santa Clarita, CA (PRWEB) December 20, 2010
Nickel allergy is one of the most common contact allergies affecting an estimated 15% of the population. That means there are nearly forty five million (45,000,000) nickel allergy sufferers in the U.S. alone. For people with nickel allergy any contact with items containing nickel will cause a rash, a rash comparable to that caused by poison ivy. For these people life is a constant struggle to avoid nickel.
A new website is dedicated to easing that struggle by providing solutions for nickel allergy sufferers. At NickelFreeLife.com users can find sources for many daily use items that are nickel free. From earrings, bracelets, rings and watches to belt buckles and cooking utensils.
The site is also loaded with information about nickel allergy. A user can learn about nickel allergy, living nickel free and even how to follow a nickel free diet (nickel is naturally abundant in many foods and ingested nickel is thought to cause many chronic symptoms for nickel allergy sufferers).
"The U.S. is far behind Europe in its nickel allergy standards," commented development manager Eric Larsen. "The reason the U.S. is behind has to do with cost, it is simply cheaper to make products with nickel in them than to source nickel free. Case in fact, nickel use has been banned in jewelry production for nearly 15 years in Europe, yet the U.S. has no meaningful nickel use legislation."
Nickel allergy sufferers can now learn about nickel allergy, shop for nickel free items and share information at http://www.NickelFreeLife.com .
In addition to general shopping and information at the main site, separate niche product websites will be forthcoming, the first of which launched recently, NickelFreeBelts.com. "Our goal is to source as many common items as possible," Eric Larsen noted. "In the event we cannot find a product nickel free, we aim to manufacture it ourselves. For instance, we had trouble finding nickel free belts so we made a sizable effort finding a nickel free steel. We use this custom steel in the manufacture of all our nickel free belt buckles." The first of these niche websites can be found at http://www.NickelFreeBelts.com .
# # #