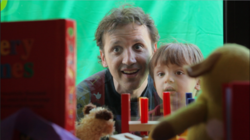 I'm really proud that what is is first and foremost a gift to my son has also resonated so deeply with moviegoers… I can't wait to share this experience with the Los Angeles HollyShorts audience.
(PRWEB) August 08, 2012
After winning the "Best of New York" jury prize at the New York International ShortFest, prominent New York filmmaker Mark Nickelsburg will introduce his new short film to Los Angeles audiences during the HollyShorts Film Festival at the historic Grauman's Chinese Theater.
The film, "Harry Grows Up," is a heartwarming and funny story about a toddler who lives alone in Manhattan and deals with the departure of a beloved babysitter. Nickelsburg describes the story as romantic comedy for adults, starring babies. The film began humbly as a way for Nickelsburg to combine a love of filmmaking and a desire to spend time with his first child, Lucas, then eighteen months old. In order to accommodate the whims of a toddler. Nickelsburg shot most of the film with one camera and no crew. "It was important to me that filming was always a fun activity for my son. Whenever he lost interest, we would pack up and go home. It was a great lesson in patience that taught me more about being a good parent than being a good director."
What began as homemade film then snowballed into a project that major talent wanted to be a part of. Cindy Chupack, former Executive Producer and writer of Sex in the City, offered screenwriting help. Nickelsburg and Chupack had become friends when they screened films on opening night at the Palm Springs International Shortfest in 2009. Chupack was enthusiastic, "As a new mom and a former Sex and the City writer, this film spoke to me on every level." Later, Music Composer Jeremy Turner became so enamored with the film that to perform the score, he called string quartet Brooklyn Rider (An NPR best album of the year 2011) and Anthony McGill, the clarinetist who performed at President Obama's inauguration. After seeing an early rough cut, actor Josh Hamilton (Alive, J.Edgar, The Bourne Identity) was inspired to provide the narration for Harry's inner voice.
The resulting film opened to a sold out audience at the New York International Shortfest and walked away with the "Best of New York" jury prize. Nickelsburg says that the personal nature of the film made the award truly special, "I'm really proud that what is first and foremost a gift to my son has also resonated so deeply with moviegoers."
"Harry Grows Up" will premiere for the first time on the west coast on Sunday, August 12th at 11:00am as part of the HollyShorts FIlm Festival. The weeklong event will feature short film screenings from around the world, industry panels, and a whirlwind of exclusive receptions and parties. Twice named by MovieMaker Magazine as one of "25 Festivals Worth the Entry Fee," HSFF is devoted to helping advance the careers of filmmakers by providing exposure through top-notch screenings and networking events.
This year HollyShorts received over 1,000 submissions with filmmakers from 20 countries in competition. "I'm absolutely thrilled that 'Harry' will be in competition at the HollyShorts Film Festival," says Nickelsburg, "The slate of films from all over the world is truly impressive, and it's an honor to be in such good company. 'Harry Grows Up' is of course deeply personal to me and I can't wait to share this experience with the Los Angeles HollyShorts audience."
Tickets for "Harry Grows Up" and all of the HSFF screenings and panels and can be purchased now by visiting http://www.hollyshorts.com
About HollyShorts:
HollyShorts, Short Film Festival is an annual short film festival showcasing the best and brightest short films from around the globe. HollyShorts is devoted to the advancement filmmakers through screenings, Q&A sessions and networking events. The HollyShorts in-competition shorts are judged by such major companies as: Sunny Field Entertainment, Company 3, Method Studios, Beast, Gersh, Fun Little Movies, Script Pipeline, Moviola, IKAN, Greenhouse Studios, Martini Crew Booking, Fangoria, FEARnet, Grindstone, Score A Score, and more. For more information, please visit http://www.hollyshorts.com.