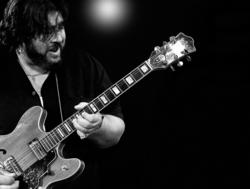 Blues Music Award nominee, Nick Moss performs Saturday May 5th at Pearl in Dallas then 2 nights at Antone's in Austin - May 7th & 8th
Dallas, TX (PRWEB) May 04, 2012
Blues Music Award nominee, Nick Moss performs for Saturday May 5th at Pearl At Commerce in Dallas then 2 nights at Antone's in Austin - May 7th & 8th
Saturday, May 5th - 9PM
NIck Moss & The Fliptops
Pearl at Commerce
2038 Commerce Street
Dallas, TX 75201
(214) 655-8824
Monday, May 7th - 7PM
Antone's & Austin Blues Society Present::
Nick Moss & The Flip Tops
Antone's
213 W 5th St
Austin, TX 78701
(512) 320-8424
Tickets: http://tinyurl.com/NickMoss5-7-12
Tuesday, May 8th - 7PM
Antone's Presents:
Blue Tuesday with Nick Moss & The Flip Tops
Antone's
213 W 5th St
Austin, TX 78701
(512) 320-8424
Tickets: http://tinyurl.com/NickMoss5-8-12
Nick Moss has followed his most critically and commercially successful album to date with the release of Here I Am, a record already drawing raves from peers and mentors, like renowned bluesman Jimmy Thackery, who has praised this new set for "pushing the evolution of his music" with tunes that are "genuine and intense."
Here I Am is bursting with personal growth and the kind of honesty fans have come to expect from Moss, whose unique approach to traditional Chicago blues on five studio records and two live albums resulted in multiple Blues Music Award nominations from the Blues Foundation. The 10 new original songs on Here I Am combine to create the most diverse album of his career as he pushes his sound, songwriting, and lead guitar work further than ever before.
More information, including tour dates, can be found at http://www.nickmoss.com.
Press Contact: Please don't hesitate to contact Melissa Zeigler at Powderfinger Promotions for more information on this event or to schedule an interview at 800-356-1155 x4233, or melissa(at)powderfingerpromo(dot)com.