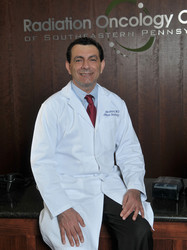 "Cancer is a very personal illness, and we are here to develop long-term relationships. I treat patients as though they were members of my family."
Bala Cynwyd, PA (PRWEB) July 16, 2010
Nicos Nicolaou, MD, radiation oncologist, has joined the team at Philadelphia Cancer Treatment's Radiation Oncology Center in Bala Cynwyd, a part of Urologic Consultants of Southeastern Pennsylvania. Nicolaou comes from Fox Chase Cancer Center, where he was an associate professor and attending physician. Nicolaou's expertise and experience treating prostate and other kinds of cancer with the latest radiation technology led to his being listed as a Philadelphia Magazine Top Doctor for Radiation Oncology for 2009 and 2010. He has extensive experience with IMRT, IGRT and 3D CRT. Nicolaou also has been listed in Castle Connolly's America's Top Doctors and America's Top Doctors for Cancer Treatment for 2009 and 2010.
Nicolaou received his medical degree from the University of Cape Town Medical School. He completed his residency in radiation oncology at the British Columbia Cancer Agency at the University of British Columbia. He completed a fellowship in radiation oncology at Fox Chase. He is certified by the American Board of Radiology and the Royal College of Physicians and Surgeons of Canada. He has extensive experience treating Hodgkin's and non-Hodgkin's lymphoma, prostate, breast, lung, head and neck, gastrointestinal and melanoma and non-melanoma skin cancers. He speaks fluent Greek and Afrikaans.
Nicolaou believes passionately in caring for the whole patient. "Cancer affects every aspect of life, and it is important to have a team that can address all of a patient's complex needs. Patients trust us to save their lives and to maintain their quality of life. We are fortunate to have the most progressive technology available to provide effective treatment, as well as the multidisciplinary team to address their physical, emotional social and financial concerns. Cancer is a very personal illness, and we are here to develop long-term relationships. I treat patients as though they were members of my family."
The Philadelphia Cancer Treatment Radiation Oncology Center embodies a new approach to cancer treatment. Its unique ClubCare TM concept combines personalized cancer treatment with advanced technology and academic research excellence in a uniquely comfortable environment. The Center is located at One Presidential Boulevard in Bala Cynwyd. To learn more about the Center, call 610-632-4100 or visit http://www.myclubcare.com.
###