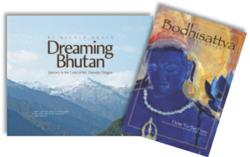 "Dreaming Bhutan is a beautiful book, conveying the great pristine beauty, peace and serenity of our sacred Buddhist kingdom." – Her Majesty Ashi Kesang Choeden Wangchuck, The Royal Grandmother of Bhutan and mother of Bhutan's beloved fourth King
New York, NY (PRWEB) October 10, 2012
Nicole Grace, author of multiple-award-winning books "Dreaming Bhutan: Journey in the Land of the Thunder Dragon" and "Bodhisattva: How To Be Free, Teachings To Guide You Home" (Mani Press), will be signing books at 7 p.m., October 26, at Namaste Bookshop, 2 West 14th Street, New York City.
During the event attendees can browse the shelves of Namaste, one of New York's newest independent spiritual bookstores, as they are served a special cup of healing herbal tea from Bhutan.
"[Ms. Grace's] book events do tend to draw large crowds," one attendee commented at a signing in San Diego, "but you have this feeling of great peace while you're there, and it's always a really warm and friendly atmosphere. Also, meeting Ms. Grace is powerful."
Inspired by the author's contemplative practice of discovering teachings from nature, "Bodhisattva: How To Be Free" offers a series of brief meditations and teachings that will provide readers of all faiths and traditions with moments of genuine peace, reflection and discovery.
Her Royal Highness of Bhutan Ashi Kesang Wangmo Wangchuck writes in the Foreword, the book "sings loudly the profound messages of the Buddha in the practice of compassion and tolerance."
Readers who have longed for personal awakening or the emotional release that comes from the sudden understanding of a deeply personal Truth will treasure the verses in Bodhisattva.
In Ms. Grace's newest book, "Dreaming Bhutan," spare, poetic words and dreamlike photographs take readers on a rare journey into a mystical land. Accompanied by her guide, a friend and former Aide de Camp to the Royal Family, the author was allowed unusual access to monasteries, temples and other private domains within this ancient realm that she describes as "a cross between the mythical lands of Shangri-La and Brigadoon."
Following Ms. Grace's book signing at Crystal Way in San Francisco, the co-owner, Gina Rabbins, commented, "Ms. Grace's presence instantly created a greater enlightened state of awareness in me."
Kris Neri, co-owner of Well Red Coyote bookstore in Sedona, Arizona said, "When Nicole Grace appeared at our store, I truly felt I was in the presence of someone holy and exceptional, but she's also a teacher who shares her wisdom with humor and a worldly awareness. I couldn't have been alone in my belief in her profound wisdom, either – that we attracted a record number of customers that day, some of whom had traveled from other parts of Arizona and even other states, demonstrates the strength of her appeal. The teachings in her book, "Bodhisattva", are as elegantly written as they are wise, and we're thrilled to be able to offer it. This was one of our most memorable author appearances."
The upcoming book signing at Namaste offers an unusual opportunity for East Coast readers to meet monk and author, Nicole Grace, enjoy a taste of Bhutan's famed healing tea, and take home a signed souvenir of the evening.
Concluding her brief visit to New York, Ms. Grace will be offering a special teaching of "Meditation & Mysticism" on Saturday night, October 27, 6:30 p.m. at The Kitano on East 38th Street and Park Avenue. Reservations are not necessary, but arriving early is strongly recommended. More information about this event, as well as the book signing, is available at http://www.likeswans.com.
About Nicole Grace:
Nicole Grace is a Buddhist monk, mystic, teacher, and author of the award-winning books, Dreaming Bhutan: Journey in the Land of the Thunder Dragon (Mani Press, 2011), Bodhisattva: How To Be Free, Teachings To Guide You Home (Mani Press, 2010) and Mastery At Work: 18 Keys For Achieving Success, Fulfillment And Joy In Any Profession (Mani Press, 2005).
Known to students and seekers around the world by her spiritual name, Kundalini, she teaches personal and professional development, Buddhism, mysticism and meditation, with uncommon wisdom, humor and warmth.
Additional information about Nicole Grace's books, teachings, events and more can be found at: http://www.likeswans.com
Stay connected at:
http://www.facebook.com/dreamingbhutan
http://www.facebook.com/bodhisattvabook
http://www.facebook.com/meditationandmysticism
Media Contact: Press office, Satori Sciences, Inc.
Phone: 800-384-8815, Email: info(at)satorisciences(dot)com
Awards & Recognition for "Dreaming Bhutan"
2011 International Book Awards - Travel: Pictorial & Travel: Recreational
2011 Paris Book Festival - best Photography/Art book
2011 USA Book News Best Books Awards - Travel: Pictorial
Five (out of five) stars from ForeWord Clarion Review
Awards for "Bodhisattva"
2011 International Book Awards – Poetry: Inspirational and Religion: Buddhism
2011 Paris Book Festival - best Spiritual book
2010 USA Book News Best Books Awards – Spirituality: Inspirational & Poetry: Inspirational