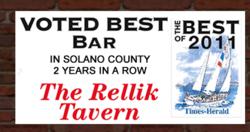 This is a Rellik first, the band loves playing here because of our small, but friendly and fun venue
Benicia, CA (PRWEB) September 03, 2011
The Rellik Tavern, a Benicia night club is excited to announce that the band "One" is coming all the way from Montreal, Canada to perform in an unprecedented back-to-back weekend on Friday and Saturday nights, September 16th and 17th at 9:00 p.m. No door fees will be charged for the entire weekend.
"This is a Rellik first," says Managing Member Delando R. Pegan, of The Rellik. "The band loves playing here because of our small, but friendly and fun venue. They are a true rising star in the rock scene. They even hand out "One" condoms during breaks - a Canadian condom company with the same name - now that's Rock 'n' Roll!"
Check out One's new video at http://www.youtube.com/user/ONEMusicTV.
The Rellik Tavern is located in downtown Benicia where patrons can enjoy a night of fun, live entertainment and great drinks. They feature nightly live music and entertainment, amazing cocktails with freshly squeezed juice and their own mixes, and rocking bands.
They are a very different bar than most, and offer a selection of over 60 draft and import beers, at least 40 customer cocktails, and over 120 different wines from which to choose.
The Rellik Tavern offers gourmet coffee service every weekday morning starting at 7:00 a.m., and at 9:00 a.m. on weekend mornings.
At night, The Rellik Tavern becomes an ultra lounge, with something happening every night of the week. Monday is open night for musicians; Tuesday is Taco, Teas and Trivia Night; Wednesday is for wine connoisseurs; Thursday is Decade DJ night; Friday is Sing songwriter night; and, Fridays are the big bands. On Sunday Bloody Sunday, build your own Bloody Mary.
Visit The Rellik Tavern at 726 First Street; call (707) 746-1137; or check out http://www.therelliktavern.com for reservations and more information.
About The Rellik Tavern
The Rellik Tavern is an upscale tavern located in downtown Benicia offering live music and entertainment nightly. They feature a morning gourmet coffee service, martinis, a large selection of draft beers, fine wines and cheese selections. They have over 60 feet of bar seating, comfy couches, cozy chairs, high top tables, and a V.I.P. room. Their goal is to celebrate the finer things life has to offer with the wonderful community around them.
# # #