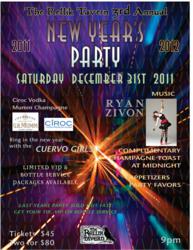 Last year's party sold out fast. Get your tickets, VIP or bottle service. Tickets are limited, and once we sell out, that's it
Benicia, CA (PRWEB) December 22, 2011
Tickets for Benicia night club, The Rellik Tavern's Third Annual New Year's Eve Party are now on sale for $45 each or $80 for a pair. Located at 726 First St. in Benicia, this event will feature live music by Ryan Zivon, hors d'oeuvre and a complimentary champagne toast at midnight. VIP room and bottle service packages are available and come with a bottle of Ciroc Vodka and Mumm's Champagne.
"Last year's party sold out fast. Get your tickets, VIP or bottle service. Tickets are limited, and once we sell out, that's it," Delando Pegan of The Rellik Tavern said.
The Rellik Tavern's VIP room features beautiful leather seating areas and two 42" HD flat screens. Guests can even connect their computers or other audio-video devices for presentations or preferred entertainment.
Bottle service is available for parties of two to 10. Customers first choose a bottle from a special menu of fine wines, champagnes and liquors, then select from six specific bottle-service lounge areas, securing the area for the group for the night.
With live entertainment three nights a week, DJs on Thursday, amazing cocktails and rocking bands, The Rellik Tavern was voted the best bar in Solano County two years in a row.
For more information on the New Year's Eve party or The Rellik Tavern, call 707-746-1137, view the tavern on the web at http://www.therelliktavern.com or visit 726 First St., Benicia, CA 94510.
About The Rellik Tavern
The Rellik Tavern, a coffee house, bar and ultra lounge, features a morning gourmet coffee service, martinis, and a large selection of draft beers, fine wines and cheeses.
This upscale tavern, located in beautiful downtown Benicia, features eight HD flat-screen TVs and a drop-down projection screen for big events. It has over 60 feet of bar seating, couches, cozy chairs, high-top tables, a VIP room and a large display area reserved for talented local artisans.
###