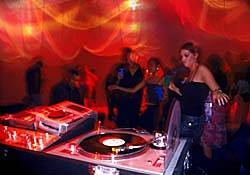 The overwhelming support of Livermore and the entire East Bay community to Sanctuary Ultra Lounge and Restaurant has been tremendous over the past couple of years
Livermore, CA (PRWEB) December 09, 2011
On December 2nd and 3rd, Livermore's night club, Sanctuary Ultra Lounge and Restaurant will be celebrating their second anniversary with a Grand Reopening in the historic Livermore Firehouse in downtown Livermore. With all new furniture and décor, Sanctuary Ultra Lounge and Restaurant is an even more relaxing and stress-free place to be, with a larger and more varied entrée menu, more tapas and appetizers, and an expanded drink and wine list. There will be entertainment every Thursday, Friday and Saturday. There will be free samples of food and drinks on Grand Reopening night, along with a DJ, live music, and dancing.
"The overwhelming support of Livermore and the entire East Bay community to Sanctuary Ultra Lounge and Restaurant has been tremendous over the past couple of years," says Gianni Schell. "We are just blessed and fortunate that people have chosen to patronize us in these difficult economic times. We have watched our little tapas lounge evolve into a full-fledged restaurant from 5pm to 10pm and to a real destination spot after 10pm Thursday, Friday and Saturday evenings. We have heard our customers say they want more menu items, more entertainment and more space."
As they have become a destination spot in the evenings, they wanted to create a larger menu and add entertainment for the busiest nights of the week, Thursday through Saturday.
"We will have to close down for a couple of days to get most of the work done and that will also give us time to do some repairs, to redecorate and to bring in some artwork," adds Mr. Schell. "We are excited about what the future holds for us and can't thank the community enough for its support."
For more information about Livermore's lounge bar, Sanctuary, please call (925) 478-3480 or visit them on the web at http://www.sanctuaryultralounge.com.
About Sanctuary Ultra Lounge
Sanctuary Ultra Lounge, a Livermore sports bar is a hip, comfortable and contemporary environment to truly 'get away from it all.' They have fabulous cocktails, tapas-style dining and live music, dancing and private parties can be held in the back room. They are a restaurant in the evening and a happening nightspot in the evenings of Thursday, Friday and Saturday.
The night club offers the best lounge bar in the Livermore, Dublin, Pleasanton and San Ramon areas. The night lounge offers outdoor dining in a sports bar atmosphere and catering services.
###