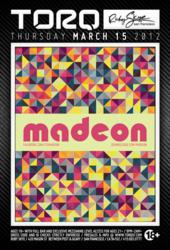 The weekend will be filled with amazing music by DJs from all over the world—right here in San Francisco
San Francisco, CA (PRWEB) March 14, 2012
San Francisco dance club Ruby Skye, one of the Bay Area's premier party venues, is hosting an action-packed weekend filled with the best beats from around the world starting on Thursday, March 15 and continuing through Saint Patrick's Day, Saturday, March 17, 2012.
"The weekend will be filled with amazing music by DJs from all over the world—right here in San Francisco," explained George Karpaty of Ruby Skye. "Starting Thursday, we will host incredible acts that will surely keep the dance floor moving."
On Thursday, Ruby Skye and TORQ present the French 17-year-old electronic prodigy Madeon. Self described as an "electro-pop-house-whatever producer from France," Madeon has taken the party scene by storm, winning the praise of Skrillex and Pendulum front man Rob Swire. The young electronic producer conquered the hearts of dance lovers everywhere with his Deadmau5 "Raise Your Weapon" remix in 2011, and has since gained viral popularity with his "Pop Culture" mashup on YouTube. Madeon will kick off the three-night dance party at 8 pm.
The momentum continues on Friday, March 16 with house and techno DJ and producer Dubfire. Formerly one-half of the four-time Grammy nominated and award-winning progressive house music group Deep Dish, the Iranian-American DJ Dubfire has made quite a name for himself in the techno world. His record label, known as SCI TEC, has churned out hits by up-and-coming artists like Delete, Paul Ritch, Rocha & Lewinger, and The Dolphins. Dubfire will be gracing the decks at 9 pm, after DJs Carlo Lio and SHDWPLAY.
Then, follow the pot of gold to Ruby Skye on Saint Patrick's Day. The critically acclaimed and multiple award-winning San Francisco house music duo Josh Gabriel and Dave Dresden, formally known as Gabriel & Dresden, will dish out golden beats all night long starting at 9 pm.
Since joining forces in 2001, the group has swept numerous number one spots on the Billboard Top Hot Dance/Club Play list, along with several International Dance Music Awards. The influential Gabriel & Dresden recently reunited after two years of separation and are back to shaking up the dance floor.
As always, Ruby Skye will bring the best 21-and-up nightclub experience in San Francisco. Be sure to dress appropriately for this wild weekend and leave the sneakers, shorts, tank tops, baseball hats, and gym clothes at home. Tickets for each night cost $25 - 30 and can be found on the Ruby Skye website or ticketweb.com.
For more information about this San Francisco party venue, the DJs that will be performing, and all other events at Ruby Skye, visit http://www.RubySkye.com.
About Ruby Skye Nightclub San Francisco
Ruby Skye, the premier San Francisco nightclub, is one of the most-visited Bay Area clubs and host to both local and international DJ's who enjoy performing in San Francisco. The 15,000 square-foot historic building housing the club (est. 1890) offers four distinctively different, luxurious areas for entertaining that can be combined to accommodate up to 900 guests. It also features "The Jungle Room," an elegant and private lounge where guests can enjoy fine cognac in Old World elegance.