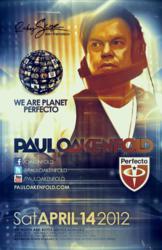 San Francisco, CA (PRWEB) April 11, 2012
Legendary UK record producer and trance DJ Paul Oakenfold has been tied to the likes of Run DMC, Salt-N-Pepa, Beastie Boys, U2 and Madonna—and on Saturday, April 15, he will grace the turntables of the premier San Francisco dance club, Ruby Skye.
Paul Oakenfold is known as a leading force in the global music scene, shaping the entire electronic genre throughout his illustrious career that spans three decades. He has been a pioneer for house music since the late '70s when he started spinning funk as a young DJ hopeful in London.
His versatile artistic ability and influential sounds have since solidified Oakenfold's spot as an international DJ power player. His ambition to break house music in Britain in the '80s eventually landed him gigs producing tracks for some of music's hottest names, performing at the biggest nightclubs and festivals in the world, and working on film scores for blockbuster Hollywood movies.
Oakenfold has stamped his unconventional signature style on some of the most renowned music and media influencers of several generations. His impressive resume includes touring the world with U2, producing Madonna's 2009 greatest hits collection, Celebration, and scrubbing out the score for The Bourne Identity.
His omnimedia presence is most certainly felt with his 2002 single "Ready Steady Go," released on Warner Bros. Records, which skyrocketed after being featured in Saab commercials, the EA Sports game Tiger Woods PGA Tour 2003, the NASCAR theme song for 2006, DDR Ultramix for Xbox, and multiple television shows.
Two Grammy nominations, a record label (Perfecto), and 24 DJ mixes later, Oakenfold is still gold.
Gearing up for the upcoming release of his third studio album, Pop Killer, Oakenfold is briefly coming out from behind the decks of his residency at Las Vegas' Rain nightclub and getting back to his roots as a touring legend. Pop Killer is the highly anticipated release on which Oakenfold collaborates with megastars like Cee Lo Green, the Red Hot Chili Peppers, and Ryan Tedder of One Republic, among many others.
The chic Ruby Skye dance club always brings the best names from around the world to the San Francisco house music scene. Party people across the Bay Area can expect a power-packed night with the electronic music prodigy when he visits the popular San Francisco nightclub.
Oakenfold hits the stage at 9 pm on Saturday, April 15. Tickets for this 21-and-up party are available for $35 on the Ruby Skye website and TicketWeb.
For more information about this San Francisco party venue, visit http://www.RubySkye.com. Become a fan of Ruby Skye on Facebook at http://www.facebook.com/RUBYSKYESF and follow the latest news on Twitter @RubySkyeSF.
About Ruby Skye Nightclub San Francisco
Ruby Skye, the premier San Francisco nightclub, is one of the most-visited Bay Area clubs and host to both local and international DJ's who enjoy performing in San Francisco. The 15,000 square-foot historic building housing the club (est. 1890) offers four distinctively different, luxurious areas for entertaining that can be combined to accommodate up to 900 guests. It also features "The Jungle Room," an elegant and private lounge where guests can enjoy fine cognac in Old World elegance.