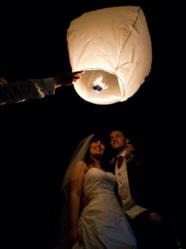 Sky Lanterns give an enormous amount of pleasure to the user and have proved to be very versatile in that respect as they are now used for countless purposes.
Harrogate, UK (PRWEB UK) 23 June 2011
Chinese Lanterns have received some negative press over the past year or so where claims have been made of livestock being harmed, safety issues and potential hazards.
Chinese Lanterns date back centuries to when Chinese armies utilised them as signaling devices. Now, they are used to celebrate weddings, birthdays, social gatherings and for memorials of loved ones. They have grown increasingly popular worldwide and are now available in a variety of colours, shapes and sizes.
Harrogate based firm, Night Sky Lanterns, established in February 2009, have developed and manufactured what they believe to be the highest quality Chinese Lanterns available.
Since launch there have been numerous press releases from Government departments, the National Farmers Union and private individuals regarding their concerns about the safety of lanterns. The most recent article was published by a Farming Minister who has written to the British Hospitality Association, asking them to advise its members to discourage their customers from using Chinese Lanterns.
Part of the article states, "Anyone who's seen sky lanterns at night knows how spectacular they are, but they probably don't know how they can cut a cow's insides to ribbons and be devastating to the countryside."
Whilst we always listen to comments made, these statements are, however, unsupported by evidence. "We sell 100's of 1,000's of Chinese Lanterns every year and have never had a reported incident of damage, injury or fire caused by the use of one of our Lanterns. In fact the exact opposite is true. They give an enormous amount of pleasure to the user and have proved to be very versatile in that respect as they are now used for countless purposes. We have met with Trading Standards several times and they are, after having independent testing done on our lanterns, satisfied that we have a high quality product that they are quite happy for us to continue selling." says Mark Sellers, Partner at Night Sky Lanterns.
The Sky Lantern industry has adapted to accommodate people's concerns. Twelve months ago, the market was flooded with Sky Lanterns containing two thin strips of metal at the base of the lantern. Conversely, the majority of UK retailers now offer Lanterns that are 100% wire free.
"We contacted the NFU in 2010 to try and resolve some of their concerns regarding Sky Lanterns. Months later we received a response welcoming our approach. We then organised a meeting with the NFU and had a lengthy telephone conference to discuss the improvements we were making to our lanterns. The meeting was very productive and the NFU representative indicated that they we looking for a wire free option and not an outright ban", says Lewis Sellers, Partner at Night Sky Lanterns.
"That day we received an email from the NFU saying the meeting was a 'great success and had helped them to understand what some of the main issues were for us as an importer/manufacturer, However, the following day the NFU said they were going to push for an outright ban on the sale of Lanterns", says Lewis.
It has become apparent that there are still low quality Chinese Lanterns on the market that should not be for sale. High quality Lanterns are manufactured from thick flame retardant paper to help retain heat - this enables quick inflation and ensures the Lantern makes a vertical ascent. The fuel cell should be easy to light and non drip providing a constant heat that ensures the Lantern will remain airborne and will not return whilst still lit. The majority of lanterns now contain no wire and biodegradable string to ensure minimum impact on the environment.
"We would really like to continue our dialogue with government agencies to put some of the issues surrounding Chinese lanterns at rest. We are extremely proactive in improving our products and believe our White traditional Sky Lanterns are the safest, most environmentally friendly lanterns available." says Lewis.
"At present there is no legislation for the Lanterns, however, we've carried out various tests for the presence of asbestos, general product safety and a flame retardant test. Our Lanterns passed all of these." says Mark.
You only have to look at some of the reviews on the Night Sky Lanterns website to see how much enjoyment Chinese Lanterns bring to individuals.
"Recently, some lanterns were supplied to the friends of a schoolgirl killed in a tragic accident. They were looking for a way to collectively mark their loss, and found that releasing lanterns as a group was a way of marking their respect and helped them to support each other as well as make a visual statement of remembrance." said Lewis.
High quality Sky Lanterns are perfectly safe when used responsibly in good weather conditions. They don't cause noise pollution and, unlike fireworks, they don't spread harmful chemicals across the countryside when released.
Night Sky Lanterns would like to hear your thoughts and opinions on Sky Lanterns. A discussion is open on their blog where you can post your thoughts - http://blog.nightskylanterns.co.uk.
About Night Sky Lanterns
Night Sky Lanterns, based in Harrogate North Yorkshire, are one of the largest importers of Chinese Sky Lanterns in the UK. They have continued to work very closely with their manufacturers in China to produce what they consider to be the safest, most environmentally friendly and best quality Sky Lanterns available in the UK.
###