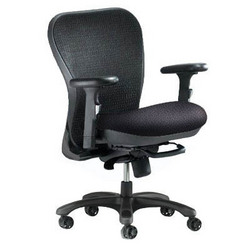 Rochester, MN (PRWEB) September 27, 2007
BuyOnlineNow.com, an office supply and office furniture retailer based in Rochester, MN, has secured a deal with Nightingale Office Chairs which allows them to ship chairs direct from the manufacturing facility in Canada. This allows them to offer low prices and fast shipping on one of the world's best made brand of office chairs to customers in the United States, and Canada via their sister store, BuyOnlineNow.net.
Nightingale Chairs, based in Ontario, Canada has been producing innovative seating solutions since 1928. Nightingale believes it is very important for a chair to not only look good, but be as comfortable as possible as well. They have been at the forefront of innovation in the field of office chairs, inventing products such as Enersorb Foam, a highly moldable foam composition that molds to the weight and shape of each individual user, and the Back Buddy Back Support, which self-adjusts every time it is used, providing the user with a personalized lumbar support experience.
Nightingale is proud of the fact that they implemented an environmental policy long before the government instituted mandatory recycling. Nightingale committed to manufacturing their chairs using methods and materials that have the least impact on the environment. This fits very well with BuyOnlineNow's "Go Green" campaign, which provides environmentally friendly alternatives for many different office supplies and office furniture products.
Nightingale has received many awards for their cutting edge designs. Their flagship chair, the CXO series chair has won several awards and reached an impressive milestone of 250,000 units sold since being first made available in 2004. The CXO series was the result of over three years and millions of dollars of research and development. It was created to cater to a high performance ergonomic market, and continues to be the seating standard of choice for many Fortune 500 companies and government agencies.
About BuyOnlineNow.com: Providing office supplies and office furniture to individuals and businesses for the last 7 years, BuyOnlineNow.com carries over 30,000 products in 85 distribution centers nationwide. BuyOnlineNow.com has been listed as one of the fastest growing companies in America every year since 2005 by Inc. Magazine. In 2007 BuyOnlineNow.net, their Canadian equivalent opened for business, and has been growing steadily ever since.
For more information visit our web site: http://www.buyonlinenow.com
# # #