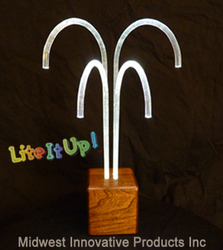 LiteItUp Table Top Night Light Displays Bring Out The Creative Side In Everyone
Columbia, IL (PRWEB) September 27, 2010
Night lights have been around for a very long time, but Midwest Innovative Products Inc now offers one that encourages creativity and is fun to use. No longer confined to an obscure wall outlet, the LiteItUp night light is made to be seen. Place it on a table, dresser, night stand, bathroom vanity, kitchen counter top, fireplace mantle, or anyplace that has a flat surface.
For anyone with even the slightest bit of creativity and imagination, Midwest Innovative Products has created an original night light product that can best be described as a "user-customizable table top night light display". The possibilities are endless and the fun really begins when you start thinking about all the different things you can display with it. Start with your favorite knick knacks and figurines, and then try some of your family pictures or valuable collectibles. Place one of your favorite die-cast model cars under the soft light or simply remove the four light rods and place your favorite crystal sculpture right on top of the LiteItUp cube to bring the crystal to life. After that, you'll be hooked and you'll look for more and more ways to use the LiteItUp!
LiteItUp products start with hand crafted solid wood cubes integrated with 4 high intensity AC powered LED lights. Acrylic optical light rods with hand polished ends glow softly while transferring the majority of the light from the LEDs to the rod ends, bathing your most cherished collectibles in pure light! Because it uses practically no electricity, you'll never need to turn it off. Solid-state electronics with quick-blow fuse and UL approved cable and switch make it safe. Looks great in the day and at night it becomes an awesome night light!
To add even more to the creative side of the LiteItUp, Midwest Innovative Products is preparing decorated wooden covers that slip over the LiteItUp cube. The covers will be decorated with children's themes, general year round themes, and seasonal themes. The company is also considering offering blank wooden covers that can be decorated at home for a truly personal touch.
It's a great way to get the whole family involved and children will enjoy setting up their own LiteItUps in their bedrooms. Add that to the comfort that the soft light brings to your home at night and you've got a winning combination. A great night light and a great creative outlet for everyone in the family.
ABOUT THE COMPANY - Established in 2006, Midwest Innovative Products Inc has built their reputation on great customer service and original high-quality products made right here in the American Midwest.
# # #