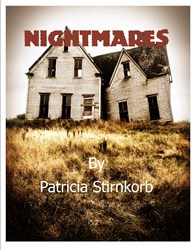 'It was an emotional roller-coaster when week-after-week we researched, phoned and wrote letters in an effort to find these boys,' said author Patricia Stirnkorb.
Atlanta, GA (PRWEB) October 30, 2013
A deal has been signed for the option on the book Nightmares, by Patricia Stirnkorb to be made into a feature-length film by Back Fence Productions and producer Chase Chenowith. The book highlights the true story of a baby-selling ring in Tennessee in the early 1950s. Stirnkorb is currently writing the screenplay. The book is available on Amazon as an eBook download.
"The story is true and I actually took part in reuniting one of the families," Stirnkorb said. "The circumstances are hard to believe. Although I changed the actual place and names, all the details really happened. What is more amazing is the number of lives that were affected by the corruption of a handful of people in a small town."
Set in the foothills of the Appalachian Mountains in Tennessee, a corrupt judge, midwife and social worker all conspired to remove children from their biological parents with the ruse of putting them in foster homes. Some were promised more money on their welfare checks, while others were just threatened to never see their kids again if they didn't sign papers that the judge or social worker presented to them. Unfortunately, most of the parents were uneducated and many could not read or write, signing their names with an X on the signature lines and giving up their children for adoption without knowing what they were doing.
After two years of searching for the brothers, Stirnkorb and a sister of two of the stolen boys, connected with the police captain who was most involved with the case and he provided them with his original files, some 35 years later. It was the breakthrough they needed and after another half-year, they were able to locate both of the brothers.
"It was an emotional roller-coaster ride when week-after-week we researched, phoned and wrote letters," Stirnkorb said. The story all happened in the late 1980s when the internet was not yet available.
Producer Chase Chenowith is most recently known for his award-winning production of Beautiful Dreamer, plus a variety of work on other films in many capacities, including screenwriter, producer and director. He is currently working on five projects that are slated for 2014 and beyond. Stirnkorb and Chenowith hope to have the production package completed by early spring so Chenowith can begin to shop for the talent of the project.
Stirnkorb has written 17 children's books, including the bestselling "Stranger Danger" and four adult books of which Nightmares is her only novel. Her writing credits include hundreds of articles for national magazines, newspapers and Make Your Life Healthy, a TV show which she writes, produces and hosts for the Telos Television Network and Waycross Community Media in Cincinnati, OH. She writes daily for a number of clients and manages their social media sites. Nightmares is her fourth screenplay and the first to be optioned for a feature-length film.
For more information, visit http://www.writewordsmedia.com.