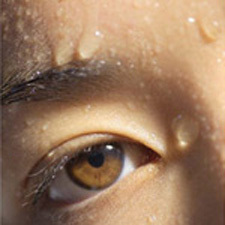 For me, the best thing has been the improvement in the quality of sleep I'm getting ... Karen Lee Richards, co-Founder National Fibromyalgia Association
Highland Park, IL (PRWEB) September 15, 2010
Night sweats … not the kind caused by a bad dream, too many blankets or a bedroom that is too warm, but the true medical condition that soaks through nightclothes, sheets and drenches even the mattress, is a nightmare for many women.
There are numerous underlying causes for night sweats ranging from menopause and infections to medications and certain cancers, some neurologic and hormonal disorders and a condition known as idiopathic hyperhidrosis. This last malady is particularly frustrating because it is a condition in which the body chronically produces too much sweat without any identifiable medical cause. The problem is prevalent. Even Dr. Oz, televisions newest celebrity physician has addressed night sweats on his show.
Relief may be found not in another pill or procedure, but a revolutionary new product that is using a natural approach to help women suffering with the debilitating effects of night sweats. Simply put, Goodnighties is comfortable sleepwear that has been infused with IonX, the naturally calming negative ions that we have all experienced near waterfalls or after a lightning storm.
Goodnighties, permanently infused with these negative ions – were designed with pain and night sweat sufferers in mind and the company has been enjoying double digit sales growth for a very good reason. According to women with everything from night sweats and hot flashes to severe pain and chronic inflammation, it actually performs. With countless fibromyalgia, arthritis and migraine sufferers testing and retesting Goodnighties®, these "Jammie testers" as they are called all return with the same comment, "Where can I buy more?". The answer of course is at http://www.goodnighties.com where all technical questions are also answered, along with a video.
According to the manufacturer, the science is in the fabric. The same fabric used by professional athletes to soothe wrenched arms and shoulders. Ionized fabric is even used by trainers to ease inflammation in the strained legs of thoroughbred race horses. The science behind the fabric and the new product is proven, but the testimonial endorsements are the reason for the sales growth.
Teri Robert of the HelpforHeadaches.com website writes about Goodnighties in her most recent blog and explains how for her, they decreased the severity and impact of chills and hot flashes during Migraines, increased her comfort during Migraines, reduced postmenopausal night-time hot flashes and were made of soft, comfortable fabric. This all served to address several of the ancillary symptoms that accompany this most dreaded form of headache. Teri says, "Goodnighties gets a thumbs-up from me. I'm glad I tried Goodnighties. The gown has made me infinitely more comfortable during a Migraine as well as reducing the problems caused by night-time hot flashes. Here's the true test - Will I buy more Goodnighties®? Absolutely, yes. They're going to be coming out with new styles, including a longer gown. As soon as it's available, I'll be buying more. They are more expensive than the gowns and nightshirts that I generally buy, but they're worth it."
Expert pain writer and Co-founder of the National Fibromyalgia Association, Karen Lee Richards, has personally endorsed Goodnighties and stated "For me, the best thing has been the improvement in the quality of sleep I'm getting. I awaken feeling refreshed, which is something I hadn't experienced in many years since developing fibromyalgia. The pain relief has also been quite wonderful – and surprising." Karen's whole review can be seen here along with reader comments.
For more information or press inquiries, contact Goodnighties spokesperson Sarah Baldwin at 847-341-0459 or visit the website at http://www.goodnighties.com
###