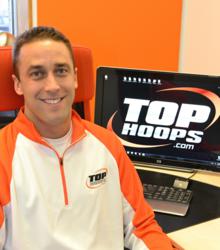 We will continue to grow our own 'category killers' in the online realm with sites like TopHoops.com.
Fargo ND (PRWEB) December 09, 2011
Leikas Group, parent firm of several e-commerce based companies that retail a wide variety of products from basketball hoops to Night Vision Goggles, is moving operations to Fargo, ND. The $200,000 expansion will add 10 jobs to the region over the next 2 years.
"When looking at where I wanted to grow the business long term, Fargo was the ideal location due to the economic environment and support offered within the region," said Tommy Leikas, Founder and Visionary of the company.
Leikas Group has partnered with the North Dakota Development Fund (NDDF) and State Bank & Trust both of which will provide capital for the future expansion. "North Dakota works through programs like the Development Fund to invest in the future of our entrepreneurial companies. We're excited to see Leikas Group continue to grow their business here," said Scot Long, Vice President of NDDF.
The Leikas Group recently acquired dozens of premium domain names that fit within the company's business model. The company will use the domain names to create user-friendly sites around specific target industries.
The company has spent the last several months developing the architecture and business processes that support the front-end and back-end needs of each site. Current sites include TopHoops.com and NightVisionGoggles.com. Several others are expected to launch this upcoming year.
"More and more people are gravitating towards the Internet for their shopping needs," Leikas observed. Just like the 'category killers' (retailers predominant in a particular market segment) found in the malls of the early 1990s, we will continue to grow our own 'category killers' in the online realm with sites like TopHoops.com."
"We believe we can use the economy of scale, and grow a unified operation center in Fargo and continue to offer our customers unique specialized experiences with our category-specific websites. Specialized customer service is where online 'department stores' like Amazon.com, eBay and Wal-Mart fall short," adds Leikas. "They don't offer the boutique shopping experience afforded by our specialty web stores."
Leikas started his company 5 years ago through the Center for Innovation at UND and with the help of the Beginning Entrepreneur Loan Program through the Bank of North Dakota. "It is great to see this company come full circle. This is a true testament to the strong partners and programs North Dakota has available to help entrepreneurs from the seed stage all the way through the growth and expansion of the company," says Justin Pearson, VP of Business Expansion and Retention, Greater Fargo Moorhead EDC.
# # #