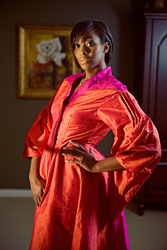 Our nightgowns are all about the women who wear them and how they want to feel as they start their day.
Kissimmee, FL (PRWEB) June 22, 2010
The Sunshine collection has been designed as an antidote to the current economic gloom and is the company's most colorful collection to date. Following a trend set in 2009 Certain Style has expanded its range of exclusive robe designs, abandoning the conventional shawl collar, tied at the waist silhouette for a more exotic high wasted silk robe and a single button cascade design.
Certain Style began providing an exclusive web-based custom made service to UK clients in 2004. In 2008 Company President Lesley Charalambides opened an office in exclusive Winter Park, Florida in order to provide American society with the same high quality affordable garments her British clients had come to rely on. The company's mission is to provide everyone with the sort of handmade to measure service which has previously only been available to the very rich. Certain Style garments (which include pajamas, evening gowns, leisure dresses, nightgowns and robes) are only available through their website.
The small but exclusive new collection is made entirely in the USA and consists of three luxury nightgowns each with one or more co-ordinating robes which, as with previous collections, can be put together to create many combinations. A bridal nightgown and négligée set completes the collection.
Two of the co-ordinating, fully lined robes are made from textured dupioni silk in shimmering shades, which appear to change which viewed from different directions. 'Some of our customers lead very public lives where a beautiful robe can be an invaluable garment.' explains Lesley.
Certain Style's designs are ideal for anyone who realizes the importance of a perfect fit as well as those who don't fit the narrow range of heights and sizes catered to by ready to wear manufacturers. Customers can enter their measurements direct on the company's website, or have the workshop email them for all the details they need.
'We provide a totally personalized service' says Lesley Charalambides. 'If clients like a design but want another color or a design variation we aim to provide it. Color can make a huge difference to the way a garment looks, but it also makes a difference to the way the wearer feels. Our nightgowns are all about the women who wear them and how they want to feel as they start their day. '
Completing the sunshine collection is a bridal nightgown and robe set in white chiffon which is a departure from the company's normal style. 'Our clients wanted something a little more revealing and this set is the result.' says designer Catherine Fritsch. Certain Style's bridal collection answers a growing trend amongst modern brides who realize that while 'the dress' may only be worn once, other garments such as nightgowns, lingerie and honeymoon outfits will be worn more often and deserve the same care and attention, especially when it comes to fit. This is a service Certain Style can provide.
For more information On Certain Style or the Sunshine collection of luxury nightgowns and robes visit the company's blog
###